We've seen magnets used on lifting beams, overhead cranes, excavators, robotic arms, for magnetic handling and clamping of steel material and parts. But have you seen them integrated on boom lifts? Although that is a quite rare application, it does existed and worked. The pictures listed below, show how
steel handling magnets
function together on an
articulated boom lift
.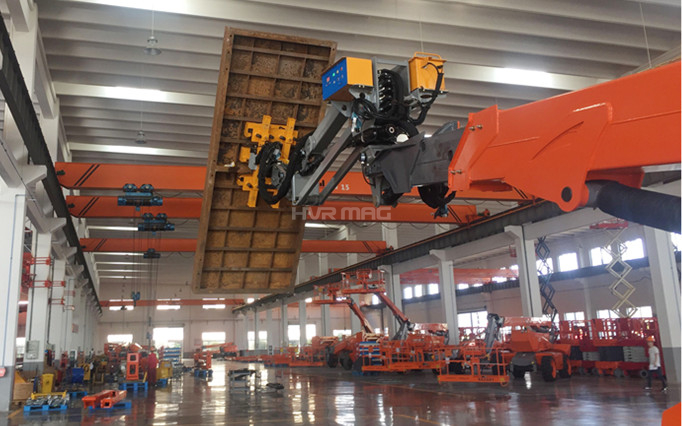 Introduction to the articulated boom lift: also called as knuckle boom lift, is an aerial work platform with multiple sections that "articulate", allowing the user to gain access to work areas that may be blocked by barriers or obstacles. It's very versatile and works well in areas with hard to reach places.
Steel concrete form: solid steel barrier that helps to hold the fluid concrete in place until it hardens and acquire a particular shape.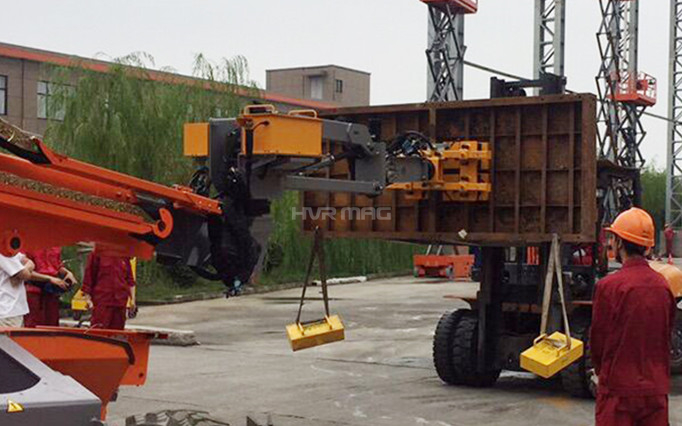 The specially designed and manufactured battery powered steel handling magnets by HVR MAG, were installed on the end of the boom beam, forming a gripper to pick up the steel concrete form from a forklift and transfer it together with the truck riding into the workshop, to finally place/position the steel form to a designated position.
A boom lift can offer greater horizontal outreach than any other type of aerial platform, allowing you to work in areas with limited access points. Steel handling magnets equipped at the end of the boom, function as a mobile lifting device that can work both outside and inside the workshop. They are ideal ideal for transporting and unloading large and heavy steel products.
This set of
battery powered lift magnets
, actually
consume no power during the lift because of the unique electro-permanent magnetic technology. They only need electric power to switch on(magnetize) and off(demagnetize) the magnetic modules.
What's more, when at low voltage, this battery operated magnets cannot be switched on(magnetized) to pick up any load. They can only be demagnetized. I think that's a great safety precaution feature.
Lifting Magnet Manufacturer
HVR MAG
also provides steel handling magnets on a spreader beam, fixed or telescopic, with hoist chains, to be attached below the hook of an overhead crane. Contact us to tailor one.