When it comes to magnetic robot gripper, most of people would think it's the electro magnetic type that are mostly widely used. That seems true at some point, however, there are also shortcomings with them.
In a manufacturing workshop in ShanDong province, where steel spring plates needs to be cut and transferred from one place to another. The handling of steel parts in this factory witnessed the replacement of electro magnetic robot gripper with electro-permanent magnetic robot gripper.
What is steel spring plate? It refers to a plate or sheet of steel from which the leaves of flat or spiral springs are cut.
Disadvantages of previously used electromagnetic robot gripper
:
Safety hazard: as electromagnets rely on electricity, the spring steel plates would fall off if in a sudden power failure;
The spring steel plates are small and thin, which makes it very easy for the electromagnetic gripper to pick up more than one layer of plates in row each time - handling precision not guaranteed.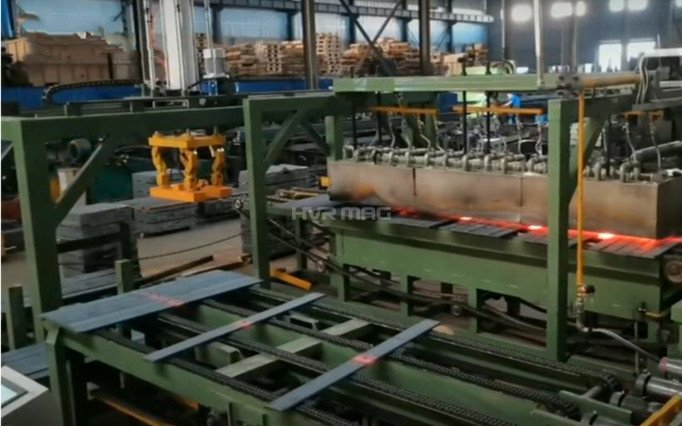 HVR MAG custom-designed magnetic robot gripper for gantry system: Magnet model: HEPMP-6313S; Quantity of magnets: 2; Single layer handling of spring plates in row;
Steel Spring Plate Specification: Length:1-2m; Width:90-100mm; Thickness:5-12mm;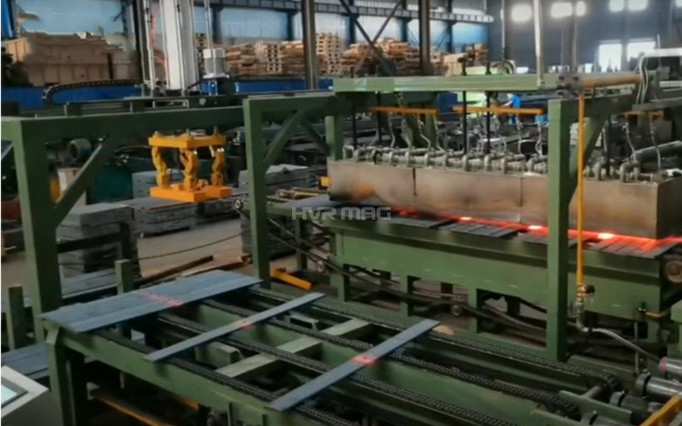 Advantages of HVR MAG's magnetic robot gripper(EPM)
:
Precision handling: the depth of magnetic flux of epm is not that strong as electromagnets. Therefore, single-layer gripping of spring plates in row can be simply managed;
As EPMs don't consume electric power during handling, therefore, a sudden power outage will not affect the holding state of spring plates in row.