We've sold sheet metal lifting equipment with various specifications to steel industries, most of which were designed with slim & rectangular magnet modules. Here, we'll introduce another rare design - 600kg battery lift magnets, for lifting of narrow sheet metal.
These 4 small magnet lifters are hanging right under the beam. The size of magnet modules is designed according to the width of narrow sheet.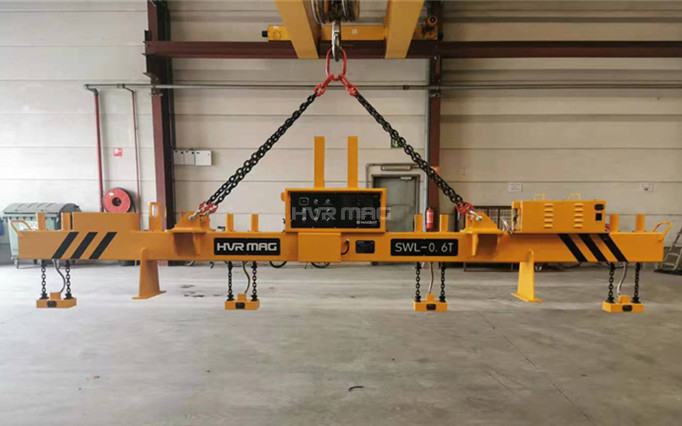 Picture one is the installation of our battery lift magnets, hoisted by the overhead crane. Without the restriction of power cord, it can move freely along with the crane inside the factory.
Picture two shows the manipulation of narrow sheet via the remote control in worker's hand. The green light indicates that the magnetic traverse is picking up a narrow sheet metal at FULL MAG, ensuring the safety of lifting operation.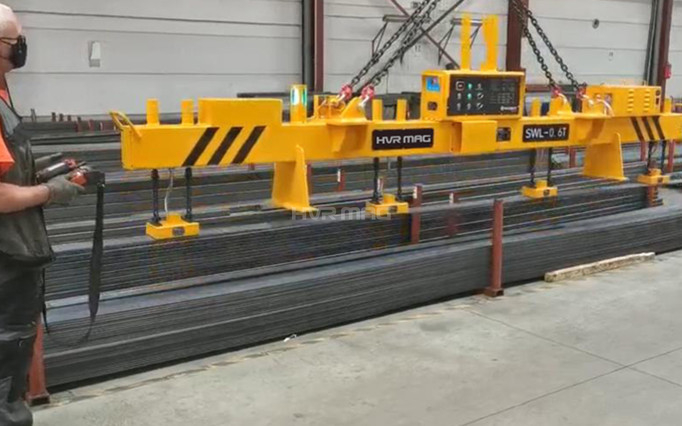 Specifically engineered magnetic lifting force, ensures that it will o
nly pick up one sheet each time, without picking up the second or third sheet
.
Precision handling, breaking limitations of power cord, no power consumption during the lift
, all these are contributions to the decision making of client to choose battery lift magnets from HVR MAG.