Steel coil, is a kind of finished steel product such as sheet or strip which has been wound or coiled after rolling. At a steel fabrication center, steel coil handling, including loading, transporting, and storing, is a standard routine procedure. Then, what determines the steel coil handling equipment people choose? It depends not only on the frequency that coils are being moved and if the orientation of the coil eye—the center hole—changes during the handling process, but also on related concerns about possible coil damage and personnel potential safety hazard.
Experience tells us that handling steel coils with traditional mechanical lifting devices, C-shaped hooks for instance, can damage several layers of coil or cause scratches or dents on the surface of coil in the process of gripping it. Moreover, damage can also take place when the coil is released. Other than that, traditional clamping of the coil is often unstable, therefore rendering coil handling dangerous to people and equipment.
But, if you go for a magnetic lifting device, you'll find a much easier, safer and economical method of handling steel coil - safely loading and transporting metal coils with properly designed magnets, virtually eliminating the possibility of damage.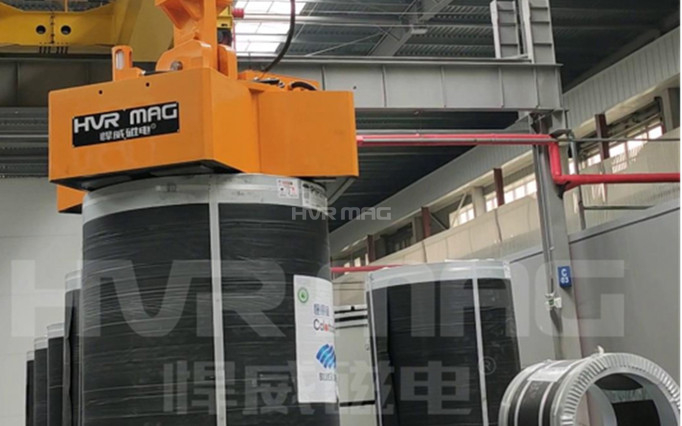 Let's take a look at the above picture first. It is a typical application of vertical eye steel coil handling with HVR MAG HC Series lifting magnets for storage in a construction center in Tianjin, China. Specifications of the coil loaded and specially engineered lifting magnet used are as follows: Maximum weight of coil(to be loaded): 5tons Coil temperature: (no higher than 80℃) Coil outer diameter: 1000mm; inner diameter: 500-600mm Coil height: Approx. 1200mm Our HEPMC series magnet lifting capacity: 10tons; lifting height: 10m
These electro permanent magnetic modues for coil handling, represents a refreshing alternative to traditional mechanical device: clamping on top of load, with uniformity, without damaging it; no dropping of loaded coil in the event of a sudden power failure. Lifting steel coil by magnets, much less storage space is required, since the magnet lifts the coil from directly above the load, eliminating the need for aisle space required by traditional steel coil lifting devices, and piled it up on another coil, optimized warehouse area with freed up manpower to be used elsewhere.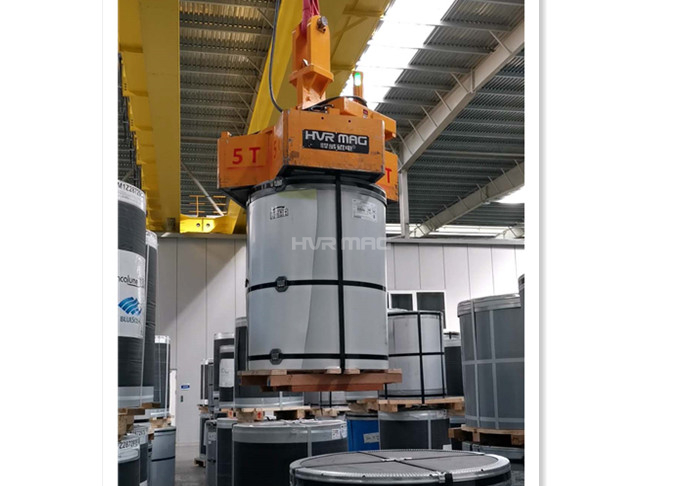 Magnets with different specifications can be utilized as steel coil handling equipment, depending on the orientation (eye vertical, or eye horizontal), the weight of the steel, the size and weight of the coil, it's temperature. Our
HC Series steel coil magnets
can be custom designed to handle coils in either vertical eye or horizontal eye positions for specific application upon client's request.