There are many different choices of steel sheet lifting equipment, like plate hooks, plate clamps, straps, and manual lift magnets. However, none of those is suitable for loading long & thin steel sheet onto laser cutting table, as the long sheet tends to bend or tilt during transition.
Here, we'll introduce a new type of
steel sheet lifting equipment
- magnetic lifting beam. It's specially designed and manufactured by
HVR MAG
, to do the sheet loading and unloading job before or after the laser cutting procedure.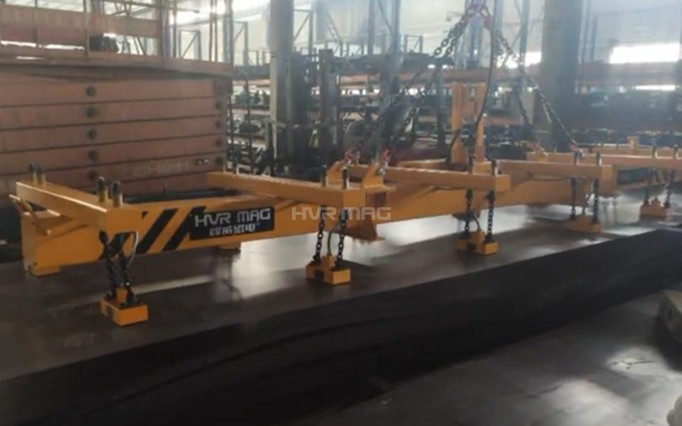 This steel sheet lifting equipment consists of 12pcs electro-permanent lift magnets, symmetrically hung on each side of the beam, below the hook of overhead crane. Also referred to as overhead crane lifting magnets.
Magnet model: HEPMP-150P30B; Rated lifting force for each magnet: 150kg; Safe Working Load(SWL): 1.8 ton; Steel sheet dimension: 6000×2000×1.5-6mm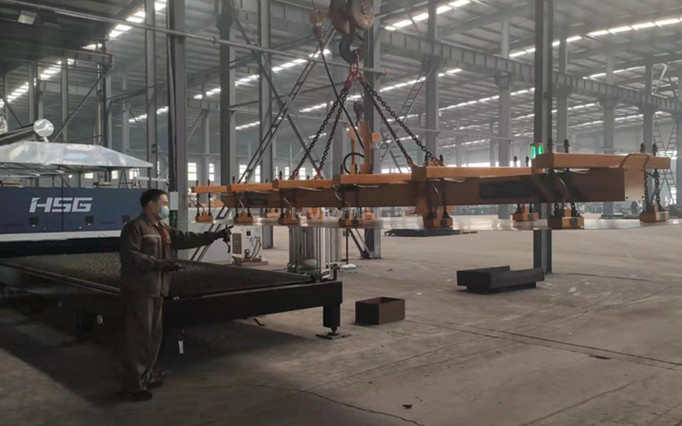 Advantages of this steel sheet lifting equipment over others:
Multi-point magnetic lifting force circumvent the deflection and scratches of the sheet that might occur during the lifting process.
With radio remote controller: only one worker required to perform the whole handling process.
No energy consumption during lift
Can remain holding of the sheet even in a sudden power loss