Magnet lifters
are widely used magnetic lifting tools that can hoist moving steel plates, blocks, press molds, and other magnetic material in factory and warehouses. Let's take a look at how lift magnets work in spring steel flat bar tempering line.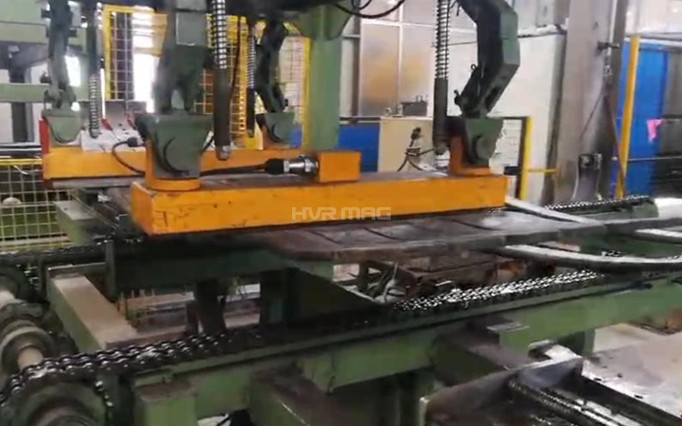 2 rectangular HEPMP-6313S electro permanent magnet lifters, equipped on an automatic hoist device, which is responsible for transferring these tempered flat bars to another place.
Special designed curve surface of contact, adapt to the morphology of tempered spring steel flat bars.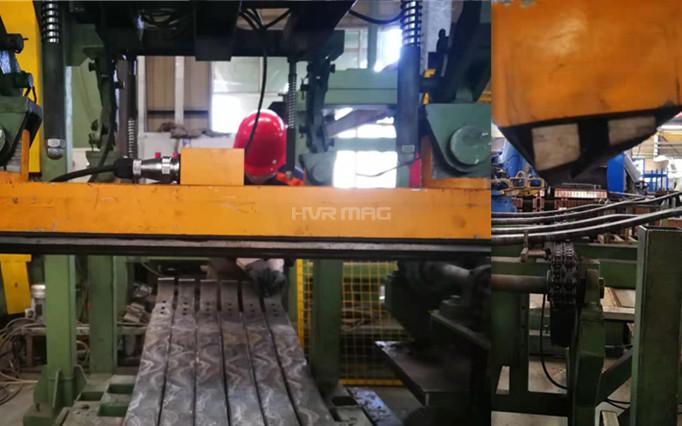 How do magnet lifters work?
Once
magnetized
(connected with electricity), they can pick up/grab 6 spring steel flat bars instantly and firmly by the strong magnetic clamping force generated.
Demagnetize
(providing another electric pulse) these lift magnets to release the bars. Both the MAG and DEMAG operation can be operated through
radio remote control
.
Spring steel, as its name suggests, is most commonly used in the manufacture of springs. When hardened and tempered (as supplied, or heat treated by the customer) it offer excellent spring characteristics. Spring steel flat bars are widely used on auto fittings, auto manufacturing, hardware tools, chain manufacturing and other machinery manufacturing industry.
HVR MAG
can engineer magnet lifters or
magnet grippers
for spring steel flat bar lifting/handling in automation. Our electro-permanent magnetic lifting solution is much safer and more stable than electromagnetic lifting type. They are easy to operate and safe to handle and hence are widely used as lifting devices for steel in factories, docks, warehouses, and transportation industries.