In many cases, steel plate lifting requires multiple sheet lifting and single sheet releasing. Because it can improve the loading and unloading efficiency greatly. Today I'd like to introduce this steel plate lifting solution applicable to the port. I dare say that few people have seen such an electro-permanent lifting magnet before.
This lifting magnet from HVR MAG is also a great example of maximizing customers' needs and profits through custom design and manufacturing.
Because the customer asked for a magnetic lifter customized with forklift use on the port. In logistics, the efficiency and safety of loading and unloading determine whether the customer's interests can be maximized. So let's take a look at this tailor-made lifting equipment specially for the customer from Shandong Province in China.
To improve the efficiency of steel plate loading and unloading:
1. The lifting magnet has a lifting capacity of 35 tons, with a pull-off force of 105 tons.
2. It can lift up to 5 sheets at a time, and then release them one by one, just as the customer required. (This is because we can adjust the magnetic force of the lifter. )
3. It is battery-powered, with a charging pile. Hence there is no need to connect cable wire and it is convenient for outdoor use on the port.
4. One full charge can provide 2600 cycles of loading and unloading. How energy-saving it is!
5. It has telescopic lifting beams with 3 meters extension (electrically controlled), compatible with more sizes of steel plates.
6. The lifter is custom for forklift use (see the two rectangular steel tubes sticking out in front of it).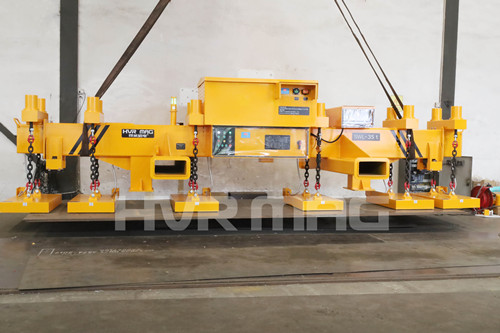 The 35-ton battery-powered telescopic lifting beam magnet is to use with forklift on the port. High material loading efficiency!
You wonder how it can ensure safety? Keep reading...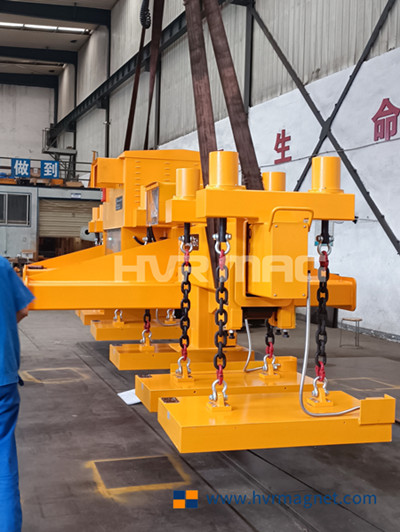 To guarantee safety during the steel plate handling process:
A) A large lifting capacity of 35 tons and a pull-off force of 105 tons, can ensure the lifted steel sheets will not fall.
Characteristics of electro-permanent magnet: 1. it uses very little electricity to activate and deactivate the magnet, and relies only on the rare earth permanent magnet to generate strong magnetic clamping force. Once activated (this process takes only 0.2~2 seconds), the lifting magnet will keep the magnetic force and keep adsorbing the load even in case of a blackout. Thus, no workpiece falls off. 2. Besides, since not much electric power is needed, the coil inside the magnet won't heat up like inside the electromagnet, it is safer. The daily care and maintenance are simple and convenient.
B) The above point has also set the electro-permanent lifting magnet apart from permanent magnet and electromagnet, making it outstanding in structural steel fabrication, construction machinery, metalworking, logistics, warehousing, wind power industry, etc.


What do you think of this custom steel plate lifting solution? What are your specific ideas and requirements if you also need a one-stop customized service for a lifting solution? Contact us now at: export@hvrmagnet.com