Yesterday, the technical engineer of HVR MAG sent the site photos of a newly installed lifting magnet. The fabrication workshop is in Anhui Province. The 1.2T lifting magnet for single steel pipes now is ready for use. The customer's feedback is that the magnetic lifter runs well and greatly improves the handling efficiency and reduces the labor intensity of workers, which is satisfactory.
It is an electro-permanent magnet designed and manufactured by HVR MAG. The magnet lifter consists of 4 magnet modules, a lifting beam, a control system, and a remote control. The customer requires to lift one steel pipe at a time, carry them vertically and transfer them horizontally to another workstation.
Project Difficulties:
The customer has strict requirements for cost control and a small budget. Due to the limitation of the material frame, the small-sized magnet has to achieve the required magnetic force, ensuring safety and efficiency at the same time. So the program needs careful design.
The technical engineers of HVR MAG lay out the magnets reasonably according to the size range provided by the customers. And the magnet surface imitates the curvy shape of steel pipes to increase the contact area. The springs on the lifter are to avoid hard contact between the magnet and the workpiece and not damage the steel pipe's surface. All in all, this lifting magnet is highly cost-effective.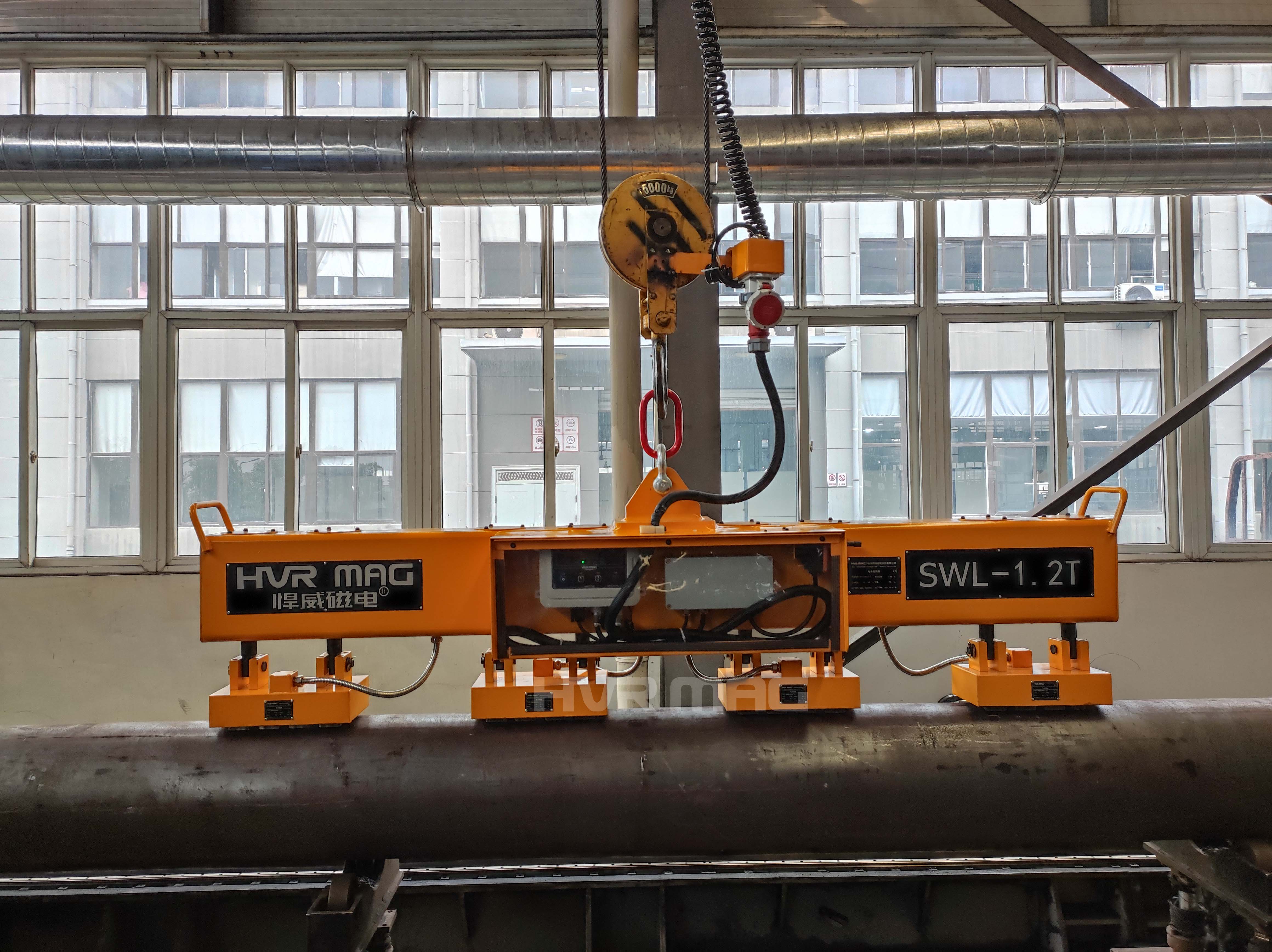 Shown in the picture: The pipe's outer diameter is 426mm, its inner diameter is 7.8mm, its length is 12m, and its weight is 1.2 tons. The magnet is used together with an overhead crane with a lifting height of 7m.
Magnetic lifter specifications: Magnet model: HEPMSP-300P50S Length of lifting beam: 2.18m. Rated lifting force: 1.2 tons. Steel pipe size (length): 9m~12m Steel pipe size (diameter): 108~426mm Steel pipe size (wall thickness): 4~10mm Controller model: HEPC21-100A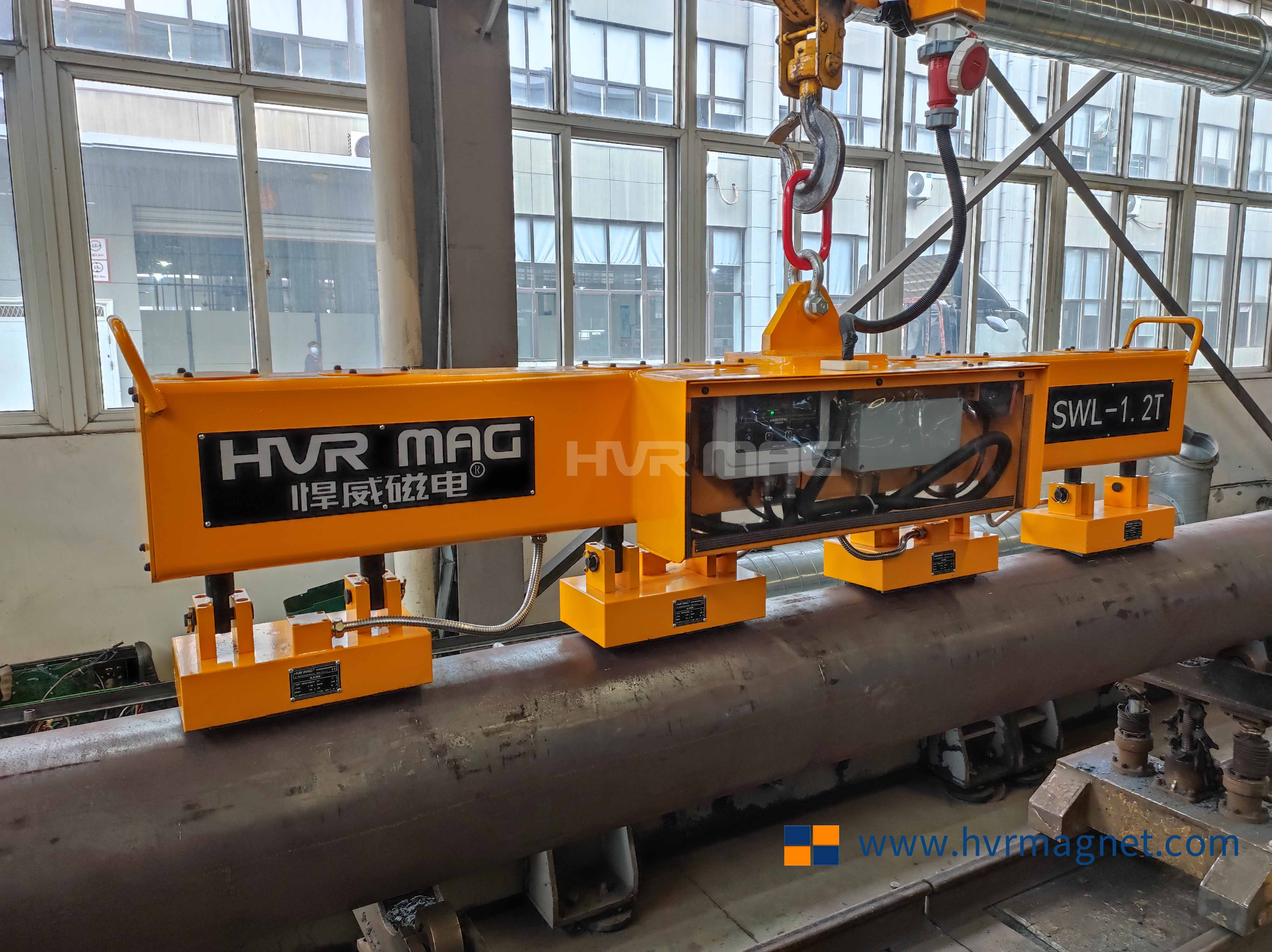 The custom-made steel pipe lifting magnet has obvious advantages as follows:
1. Personnel and equipment safety - during the lifting process, the steel pipe will not fall even if the power is cut off ( because it is an electro-permanent magnet, featuring no loss of magnetism during a power failure).
2. Energy saving - this lifting magnet only needs a pulse of electric current during the magnetization and demagnetization processes(which take only 0.2~2 seconds). So zero consumption of electricity during the lifting process.
In addition to steel pipes, this tailor-made magnetic lifter can also be used to lift other ferromagnetic industrial materials, such as round steel, profiles, rectangular tubes, coils, billets, etc. HVR Mag lifting magnet can be a highly cost-effective investment for steel structural fabricators, steel mills, shipyards, loading dorks, foundries, warehouses, coil and pipe distributors, and other application scenarios. If you are not sure how to choose the right lifting magnet, please feel free to contact us at: export@hvrmagnet.com