What is corrugated sheet metal?
Corrugated sheet metal is made of color-coated steel sheets, galvanized sheets, and other metal plates by roller pressing. Since it's been widely used, corrugated sheet metal handling has also been very important. It's applicable for roofs, walls, and interior and exterior wall decoration of industrial and civil buildings, warehouses, special buildings, and large-span steel houses. It has the characteristics of lightweight, high strength, rich color and luster, convenient and quick construction, earthquake resistance, fireproof, rainproof, long life, maintenance-free, etc.
HVR MAG helped a large state-owned enterprise to solve the problem of compatible handling of four different sizes of corrugated board.
The working conditions of corrugated sheet metal handling:
In an intelligent workshop, robots are handling four different sizes of corrugated board for stamping, shearing, and palletizing. The handling actions include 90° and 180° side adsorption, flip, and other movements. The corrugated board specifications: 4.4x1.05m, 3.6x1.13m, 3x1.1m, 3.6x1.13m. The parts are all thin boards after stamping, with thicknesses of 1.6mm, 2mm, and 3mm. And the corresponding maximum weight is about: 80.7kg, 100.5kg, 85.7kg, and 104.8kg.
Things that HVR MAG had to do:
1. To ensure that the magnetic force is sufficient and no corrugated sheet metal would drop.
2. The maximum robot load is 210KG. Hence, excluding the weight of the corrugated board itself, the weight of the whole system of electro-permanent magnets should be controlled within 100KG.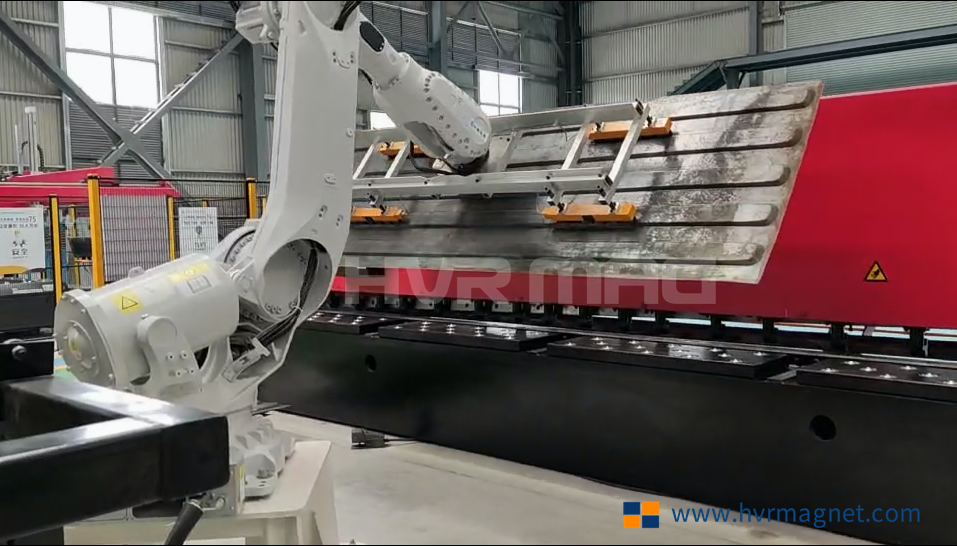 To solve the above problems, HVR MAG decided to adopt 4 electro-permanent magnet modules for joint lifting and taking its center point. Thus, to ensure that each size of corrugated sheet metal can have enough adsorption area. Four times the safety factor is added to ensure safe handling in side adsorption and flip movements. The connecting frame with the robot arm is made of aluminum profile to achieve maximum lightweight. Such a design can ensure handling safety without dropping parts and the total weight is within the load limit of the robot at the same time.
One month later, this set of magnetic grippers was finally sent to the customer site. After the installation and commissioning, our customer was very satisfied with the result. The corrugated sheet metal now can be handled efficiently and safely, earning more profit for the enterprise.
HVR MAG has won commendation from the customer for its professionalism and quality products. If you want more details about magnetic grippers for corrugated sheet metal handling in smart manufacturing, please send e-mails to: export@hvrmagnet.com