If you want to lift a 10-ton steel coil. What lifting equipment came up to your mind first? In the past, it could be unimaginable to lift a 10-ton steel coil by only 1 person. But nowadays, with the rapid development of technology, steel coils can be handled efficiently and safely.
For steel coil lifters, we suggest lifting magnets that caters to the fierce competition in the market.
Traditional lifters:
The traditional method to lift steel coils is to use the fixed mechanical clamping force as well as a hook. Often this requires more than one worker to assist in lifting.
In the new era, in heavy industry enterprises, structural fabrication, steel mills, metalworking, shipbuilding, etc., the state-of-art lifting magnet has been popular in their factories. You can see one worker with a remote control operator, handling a steel coil very easily. This has largely improved lifting efficiency, reduced the intensity of handling operations, and saved human resource costs.
https://www.hvrmagnet.com/category/battery-electro-permanent-lifting-magnet-2.html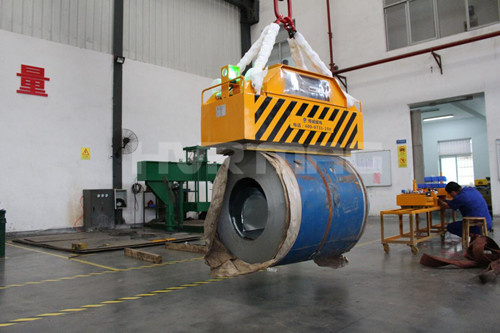 Why is the HVR MAG electro-permanent magnetic lifter for steel coils chosen? According to the customer's working condition, they want both horizontal and vertical handling of the steel coils. For horizontal handling, the magnet module surface adopts a V-shaped design, maximizing the contact surface between the magnet and the steel coil. For vertical handling, the HVR MAG lifting magnet surface adopts a flat design, and the contact surface is in full contact with the workpiece. In both cases, the maximum magnetic force is achieved. Safety and efficiency can both be ensured.
With the remote control, one worker can lift and transfer the steel coils one by one easily and safely. Within only 0.2~1 second's magnetization or demagnetization, the steel coil lifter can work as you want. Besides, it doesn't need electricity during the working process, saving 95% energy. Even in case of power-off, the magnet will keep clamping of the workpiece once it is magnetized. No workpiece falling off. Rest assured!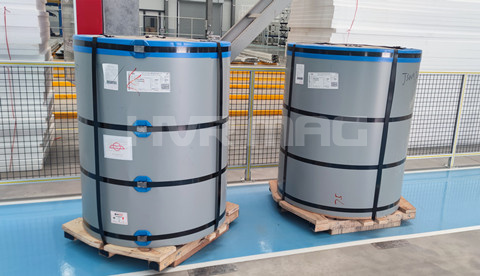 Before enquiring about lifting magnet for steel coils:
If you can provide the packing method, packing bag, air gap, and other relevant parameters, it will be very convenient for us to custom design and manufacture the steel coil lifter to your specific needs. Our e-mail address: export@hvrmagnet.com