How to load and unload heavy steel plate for heat treatment procedure? What type of steel plate handling equipment would you choose, steel plate lifting magnets or plate clamps? Before you making any decision, take a good look at the following case.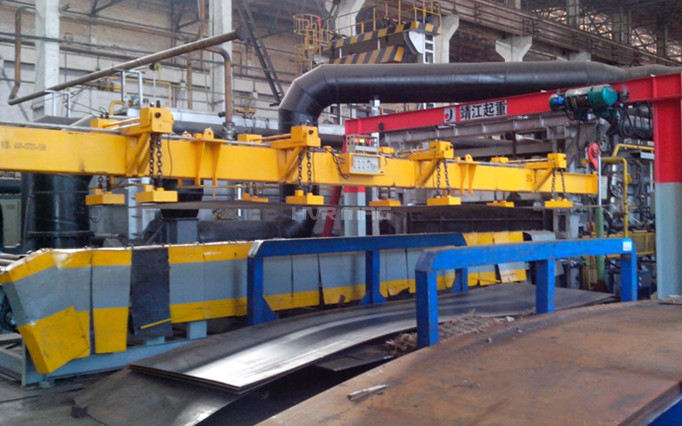 In a steel plate manufacturing workshop in Inner Mongolia, single heavy plate needs to be loaded onto the conveyor which will feed the plate into the furnace. After heat treatment, the plate will be conveyed out, and unloaded to a designated position.
Steel plate dimension: Length: 8m; Width: 0.6-2.2m; Thickness: 4-22mm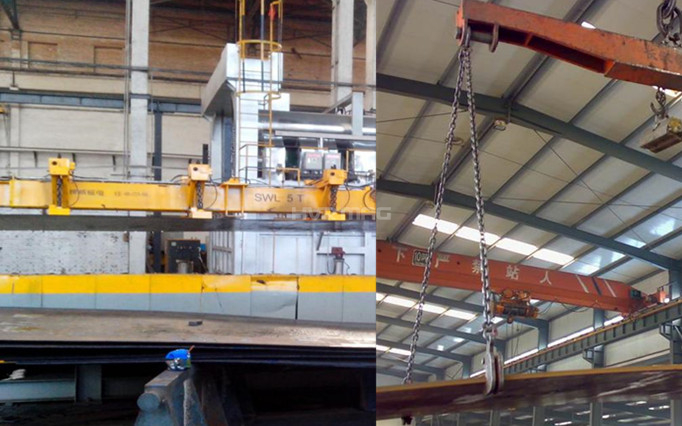 Disadvantages
of previous steel plate handling equipment:
They were using 4 plate clamps to do the lifting job. Before clamping, manual separation of steel plates is required. Moreover, when been clamped, steel plates are prone to scratches and deformation, resulting in a relatively high defective rate and safety hazard of dropping plate.
The entire loading & unloading procedure requires 3-4 workers to operate, increased labor intensity and time-consuming. About only 50 sheets of plates can be heat treated per day/machine.
Advantages
gained after using HVR MAG's tailor made
steel plate lifting magnets
:
Accurate single plate handling without clinging to the second sheet - spares manual separation.
Deformation & scratch free - the magnetic clamping force is uniformly and evenly distributed on the plate.
No dropping of suspended plate during a sudden power outage, due to the electro permanent magnetic property.
Energy-saving - only needs electric pulse for MAG and DEMAG phase, no power consumption during the lift.
Dramatically reduced labor intensity - only one worker can operate.
Greatly shortened plate handling time.
Barely no maintenance cost.
Significantly increased productivity - can treat about 100 steel plates per day/machine.
Based on all the above mentioned, we can see that steel plate handling magnets hold an unparalleled competitive edge over plate clamps or other steel plate handling equipment.
Contact us
to get a magnetic solution for your steel plate material handling need. Or you can visit our
CASE
section to gain a better understanding of our products.