How to load a long & heavy steel plate for your laser cutting table quickly, smoothly and safely? The manufacturer of air blower in this case, would suggest you using our permanent electric lifting magnets. Why? Continue reading to discover more.
Before the purchase of our electric lifting magnets for steel plates, they had heard about us, and our magnetic lifting solutions from another company. They decided to go for our magnetic lifting equipment as they purchased a new set of laser cutting table, and would like to see how it would go for this new machine.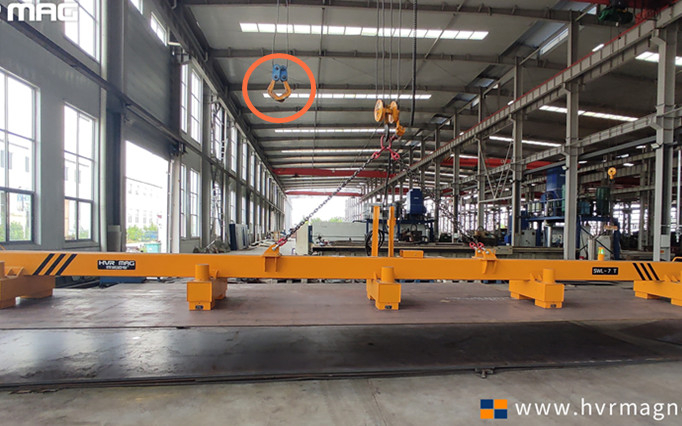 As we can see, there are 10pcs of HEPM-720P50 magnet lifters, symmetrically distributed on each side of the spreader beam.
The rated lifting capacity of our plate handling equipment is 7,000 kg (≈15430lb).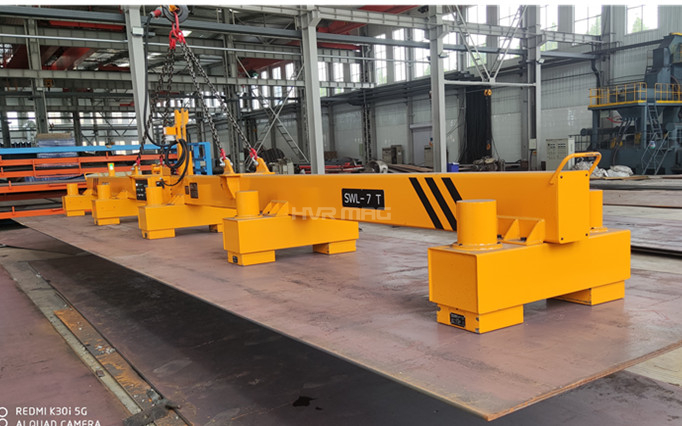 Dimensions of the steel plates to be cut:
Length: 8-12m; Width: 2.2-2.5m; Thickness: 8-25mm
Unexpectedly, our lifting solution turned out to be a great satisfaction, especially in improving the loading efficiency of steel plate. They were very happy with it, as our permanent electric lifting magnets offer the following benefits:
Can pick up ONLY 1 plate automatically and precisely

Spares the trouble of manual separation of plates for workers

Remote controlled

Offers selective control of magnet groups to fit for lifting plates of varying lengths

Zero power consumption when lifting

The heavy plate will NOT drop if the power suddenly goes off