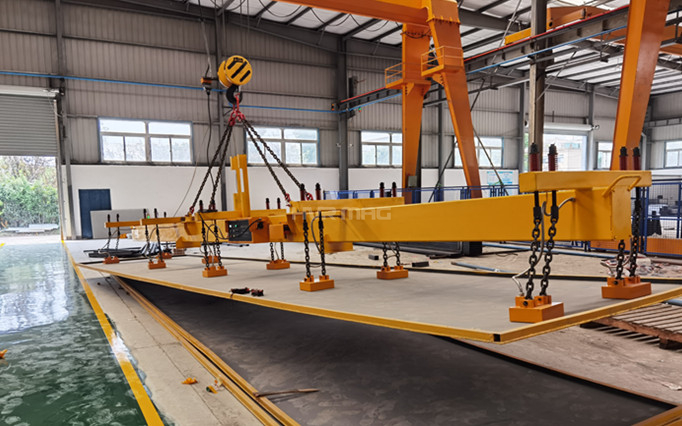 Above is a typical application of HVR MAG magnetic plate lifter for lifting a single heavy plate in Shanghai First Refrigerating Machinery Co., LTD.
This below the hook magnetic plate lifter, is in strict accordance with customer's technical requirements, with 5 sets of electro permanent magnets (10 magnets in total) installed inside the spreader beam, for lifting a single steel plate thicker than 6mm, in a size of length*width: 12m*3m. The maximum lifting capacity of the weight of a single steel plate is 5 tons.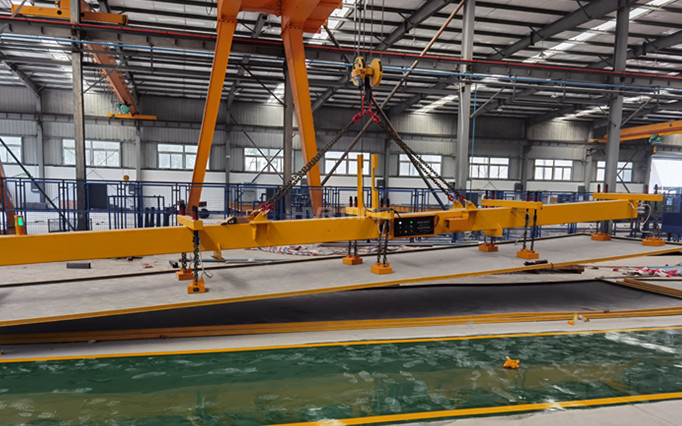 Elastic suspension devices are applied in each magnet to adapt to the horizontal unevenness of the plate. The controller, installed inside the beam, features the functions of magnetic force adjustment, floor landing detection, two-button demagnetization operation, automatic forced charging protection, etc.
In addition to plates, HVR MAG magnetic plate lifter is also suitable for various applications of industrial steel material handling, such as steel coil, slabs, profiles, etc. Contact us to get an engineered solution for your industrial material handling application.