Managing steel materials, rectangular steel tubes in row for instance, is a technically demanding and heavy task, particularly for steel mills and steel distribution centers, as these steel tubes in a row are not an entire piece, and are often need to be moved in bundle or row during loading, transporting and palletizing. Their varying lengths, sizes and weights, call for
magnetic grippers
with strong gripping force, integrated on overhead crane system to transfer or handle. And the lifting magnet applied must be able to do heavy lifting safely and guarantee that the material's quality is preserved.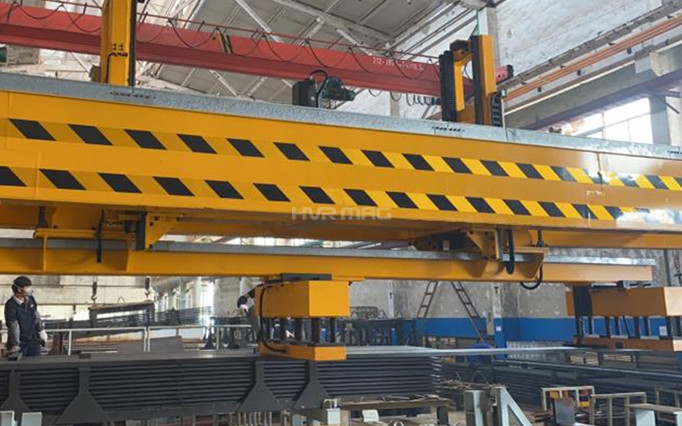 HVR MAG customed magnetic grippers (electro permanent magnet), for long rectangular steel tubes in row with a maximum length of 11m, as shown in the picture, were utilized in conjunction with gantry robot for automatic stacking (palletizing) in manufacturing industry. Together they form a magnetic palletizer for automatic loading & unloading of ferrous materials.
Using HVR MAG's magnetic grippers for industrial steel material handling can help you gain the following benefits: Safer working environment(no dropping of loads in the circumstance of a power failure)→Optimized storage space→ Improved material handling efficiency→Lower energy consumption(saving 95% electricity)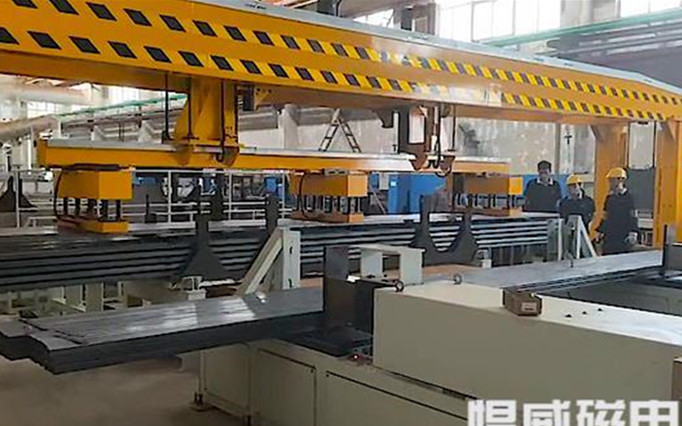 In automated material processing, like stacking or palletizing ferromagnetic products, companies can greatly benefit from the integration of
magnetic grippers on gantry robot
for the automated handling of angles, I-beams, rebars, rounds and tubes, etc. in a wide range of applications in all areas of the steel industry. Magnet specifications vary depending on the weight of the load and the size of the material. Contact us to get a customed handling solution that best fits your needs.