In steel manufacturing, steel plates or steel sheets in different sizes and thickness, need to be frequently moved, transferred, or lifted in a day, which is an inevitable labor-mechanical costing job that requires great care and attention. How to get the job done in a more cost-effective way? Customized
plate handling magnets
, in accordance with your specific technical requirements, would be the perfect choice.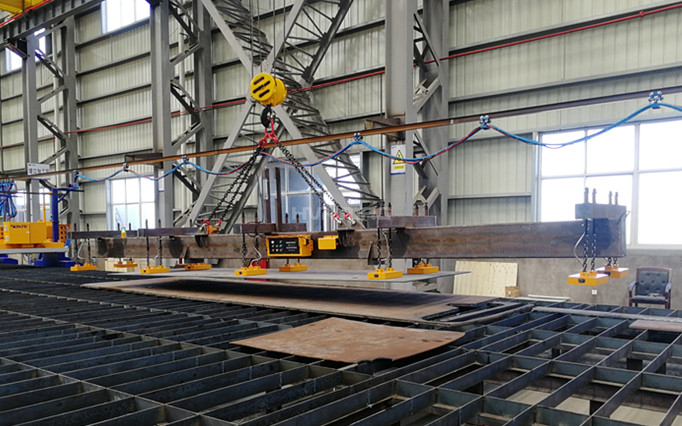 Picture shown here, is the latest application of HVR Plate Handling Magnets in an offshore equipment manufacturing base last month, in Zhousan, Zhejiang Province, China. The Plate Handling Magnets for single large heavy plate, utilized an array of our HM1 Series Lifting Magnets to provide a higher lifting capacity, 10 magnets in 5 rows. It can lift steel plate sizes ranging from 2-3m Width x 6-12.5m Length x 14-40mm Thickness. The maximum weight of a steel plate is 12 tons. The number of magnets used can vary depending on the size of the plate to be handled, through the control cabinet on the beam.
Due to the property of the electro-permanent magnets used, operator bears no worry of a possible dropping suspended load in the event of a power failure, safety guaranteed. Moreover, the operator can stay certain distanced away for the plate with the remote controller in hand. This helped our client to cut manpower needed and keep a minimum amount of people on the ground, labor costs reduced.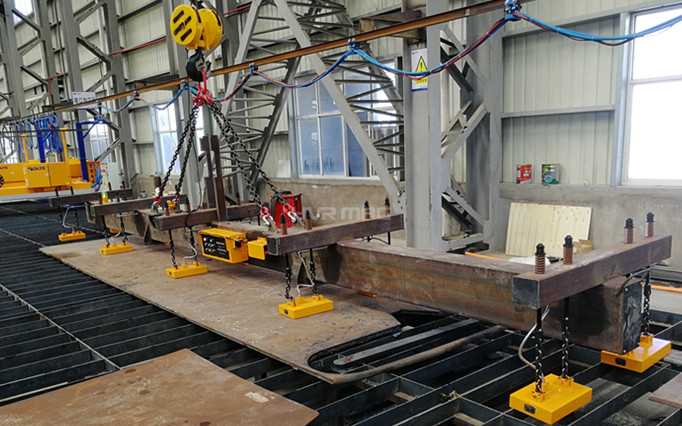 As to plate handling magnets in different cases, the operator has full control of the power being channeled to each of the magnets at any one time, allowing him to choose to lift one sheet at a time or multiple sheets. In the event of carrying multiple sheets and offloading one at a time, the operator can slowly lower the power output to the magnets until the desired number of plates are offloaded in their designated areas.

HVR MAG also tailors loadbeam (fixed or telescopic) with lifting magnets to meet a variety of dimensional, capacity and application requirements, offering customers a broad spectrum of performance across all industries and applications for their innovative lifting needs.