Introduce a new type of steel handling equipment, the integration of
magnetic lifting
technology with smart crane, to lift and stack metal round billets in a more efficient and automated way.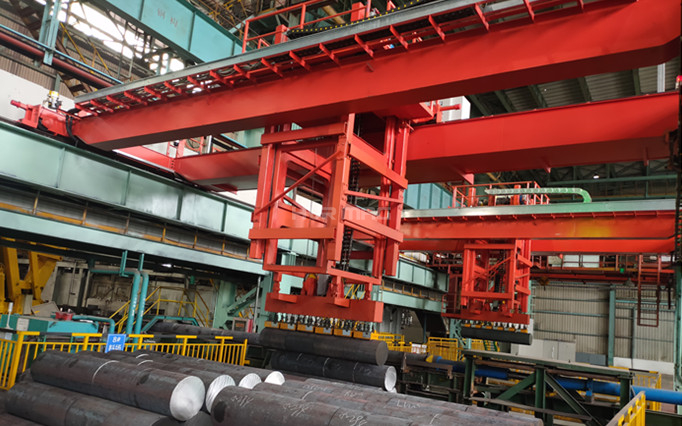 This magnetic lifting device was custom designed & manufactured by HVR MAG, in accordance with client's complex material handling requirements.
6pcs of HEPMSP-600P70S magnetic lifters were mounted on each smart crane. Each magnet lifter can be controlled individually via the PLC terminal output of HEPC5-900A-T01 controller, to be activated or not.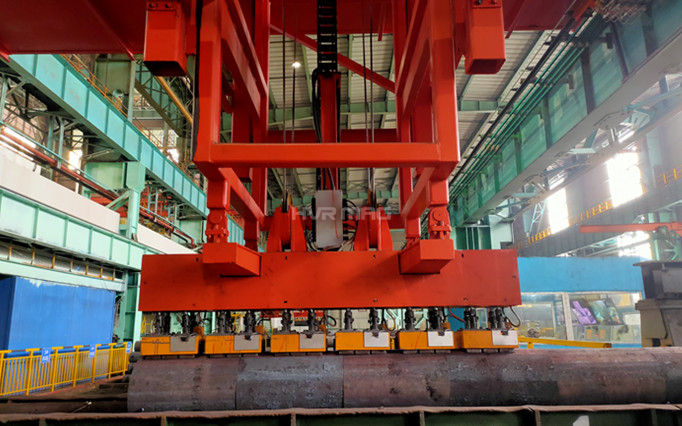 Magnetic lifting solutions for round billets:
Ф380X610mm, 535kg/pc, 4pcs each time (2140kg)
Ф380X480mm, 425kg/pc, 4pcs each time (1700kg)
Ф380X350mm, 310kg/pc, 6pcs each time (1860kg)
These electrically switched lifting magnets, were programmed to complete a series of movements, including
pick up
,
hold
,
transfer
and
release
of heavy metal round billets, automatically with the crane.
Sorting out these wheel blocks in different specifications and stack them respectively by means of magnetic lifting with smart crane, not only improves the overall work efficiency, but also enhances client factory's corporate image by realization of basically automated production.