Have you ever encountered such issues like sheet deflection during the transfer, troublesome manual separation of sheets each time when lifting by conventional slinging methods, or fearing that the heavy steel plate might drop to cause any injury to personnel due to a sudden power fault? It's true. Most of our clients chose our steel plate lifting magnets because of the above mentioned concerns.
Stability & Safety & Efficiency, is what our steel plate lifting magnets can offer to your steel material handling process, just like the case below.
Requirement: lifting one sheet in each movement, without picking up the second sheet
Sheet metal dimensions: length:6-14m; width: 1.85-2.5m; thickness: 13-50mm; maximum weight of sheet: 13.7 ton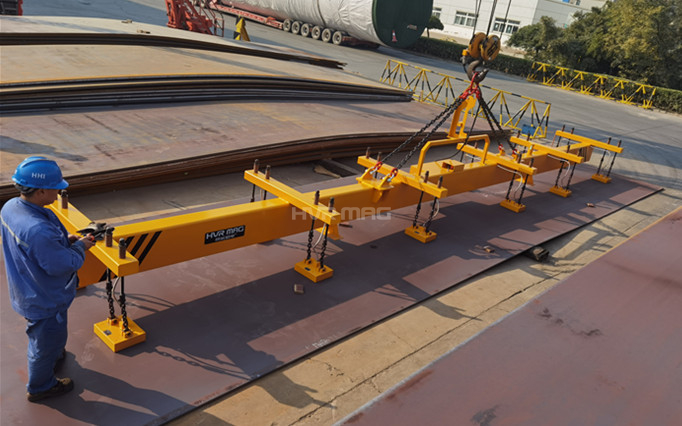 HVR MAG can also custom design steel plate lifting magnets for thick or thin metal sheet, for
cutting system
,
vertical lifting of plate
. Moreover, we can also do
lifting magnets with telescopic beam
which can stretch and retract by itself, for plates in different lengths. Browse through our website to get more information you need.