When speaking of
magnetic lifting device
, steel makers tend to think of those
hand-held magnetic lifters
, which are most suitable for small and not so heavy steel materials. But when it comes to large and heavy steel products, like plates or sheets, those individually used lift magnets become inappropriate and incompetent.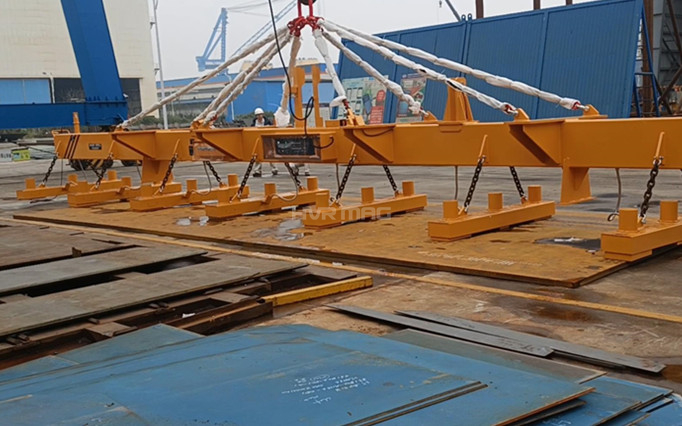 Here, we'd like to present to people in steel industries, a new type of magnetic lifting device for handling wide/narrow, thick and heavy steel plates, 24 ton magnet lifting system.
As shown in the picture, this magnetic lifting system consists of 8 sets of magnet lifters, and spreader beam, with a safe working load(SWL) of 24 ton.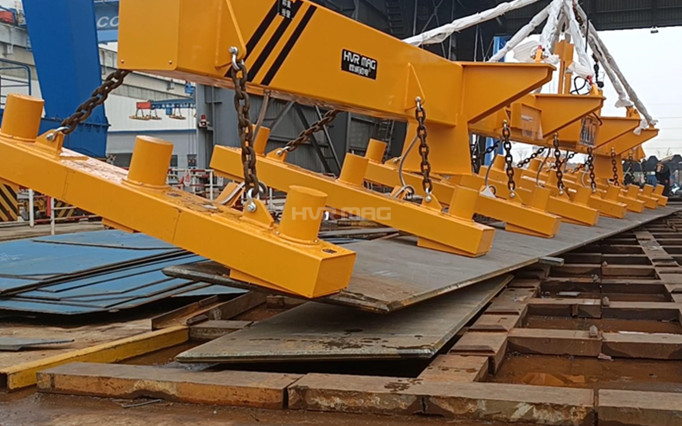 This magnetic lifting equipment is equipped with a radio remote control, which enables the worker to operate distancing away from the lifting site.
According to the workers on-site, this magnetic lifting device, designed and manufactured by
HVR MAG
, is required to perform flexible lifting of steel plates. "
Flexible lifting
" means that it should be able to
pick up a wide plate in different lengths, with 2/3/4 sets of magnet modules magnetized
, or
lift a narrow plate with only one side of its magnet modules
. No matter wide or narrow, these plates are thick and heavy.
The biggest competitive edges of this set of heavy lifting magnets lie in the following:
✦No power consumption during the lifting process
✦Selectively controllable magnet modules, make the lifting more flexible
✦The suspended heavy steel plate will not drop to cause any injury or damages, in a sudden power loss.
Contact us
to customize a set of magnetic lifting device for your steel mill or fabrication center, to maximize your steel material handling efficiency with its flexible lifting choices.