How do you move or load a 12m long & heavy steel plate onto a cutting table? What lifting devices would you choose, plate lifting clamps? Wire rope slings? Lifting magnet manufacturer,
HVR MAG
, here introduces a new type of plate lifting equipment to you, magnetic sheet metal lifter for heavy plate.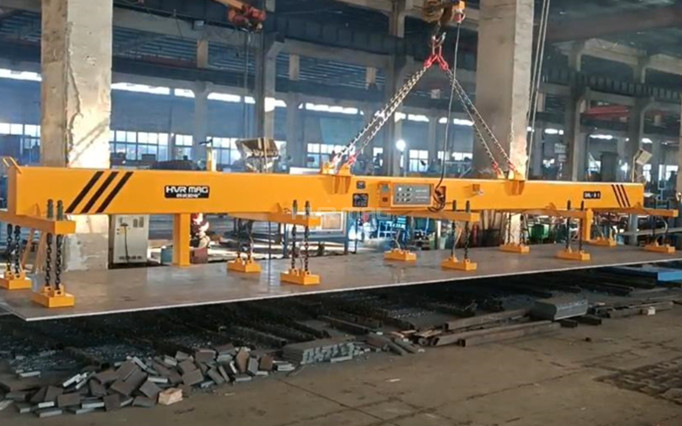 This set of magnetic sheet metal lifter was specially designed by HVR MAG, with 10 HEPMP-800P50 electro permanent magnets equipped on the spreader beam. Radio remote control availbe.
Dimensions of the steel plates to be handled are as follows: Length: 12m; Maximum width: 3.5m; Minimum thickness: 4mm; Maximum weight of single sheet: 8 ton;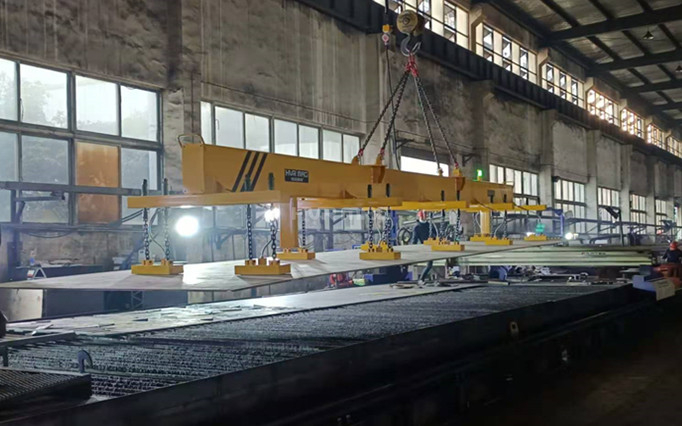 Before getting to us, this factory had been using plate lifting clamps and wire rope slings, which are now rarely used for plate handling on cutting table due to uncertain safety hazard and intense labor work.
With the custom made magnetic sheet metal lifter been put into application, all those concerns are addressed. They no longer have to worry about workers' safety as our plate lifting magnets will NOT loose hold of the plate even in a sudden power outage. Besides, they barely consume electricity - only need it in MAG and DEMAG phases, but consume NONE during the lift.
Contact us
to custom one set magnetic sheet metal lifter for cutting system.