Below is another application of HVR MAG's
eoat - magnetic gripper
, handling irregular carriage board on a gantry robot system in automation.
WHO
: an intelligent automobile manufacturing factory in ChengDu, Sichuan Province
PROBLEM:
Lifting with ropes and slings resulted in low efficiency;
The irregular carriage board is gravity biased with sharp borders and edges, which poses safety hazard to personnel.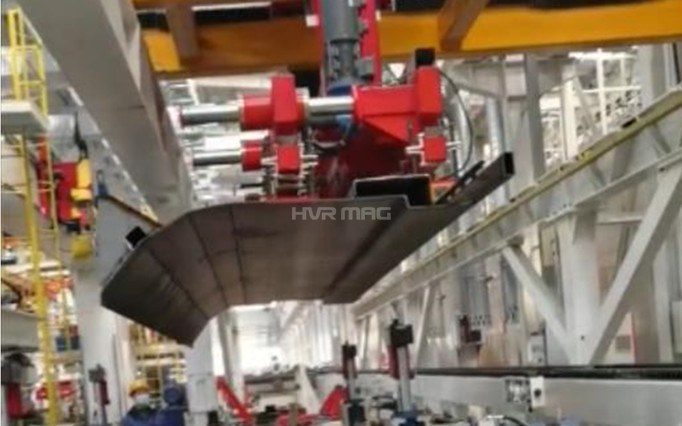 Load specification: Length: 6-10m; Thickness: 4-10mm; Width: irregular
Replacement for: ropes and slings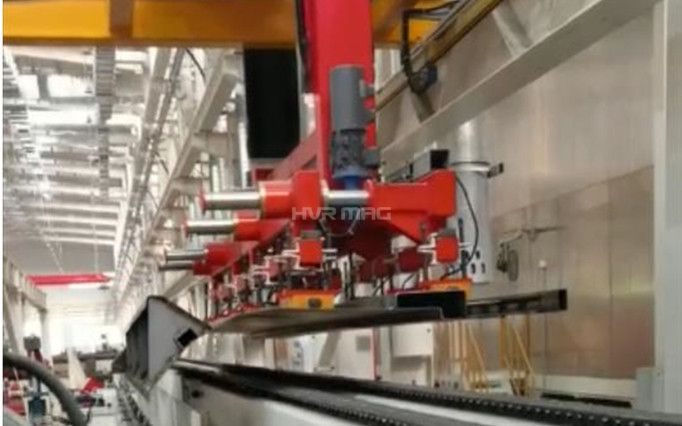 HVR MAG's Solution
: specially engineered eoat - magnetic gripper, equipped on the end of the gantry robot arm.
Magnetic gripper design: 12 electro permanent magnets elastically suspended on a spreader beam, for the pick and place of gravity biased, irregular carriage board.
HVR MAG's Advantage
over slings:
Higher safety: magnetic clamping force evenly distributed on the gravity biased board; even in a sudden power outage, the board will not fall off to cause injure to workers.
Improved handling efficiency: our eoat - magnetic gripper, can grab the board instantly as long as it's in full contact with the board surface. And can hold/transfer this heavy part with the gantry robot safely to another position.