For steel mills or steel structures, if you're seeking a proper and feasible loading solution for your steel plate cutting system, you don't wanna miss our
magnetic lifting device
.
The magnetic lifting device shown in picture, was delivered to a repeated client, who specialized in steel fabrications. This set of steel handling equipment was designed as a replacement for plate lifting clamps, to enhance factory's plate handling efficiency.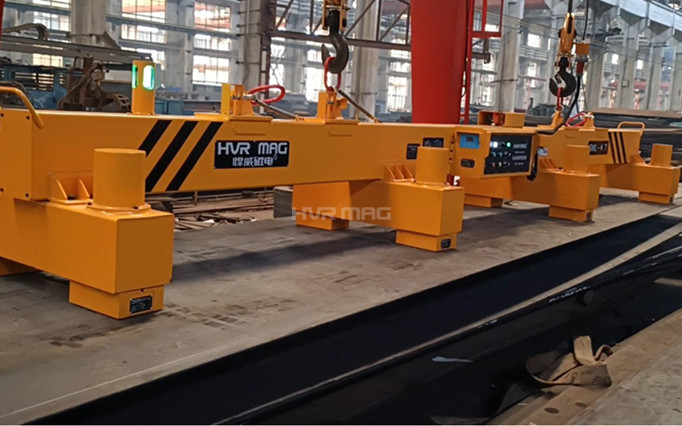 As you can see, this set of 4 ton magnetic lifting device, consisting of 8pcs of HEPMP-500P50 magnet lifters, was designed to handle a single sheet each time onto cutting table, for the next cutting procedure.
This device was hanging below the hook of overhead crane, moving back and forth. Dimension of plates to be handled: 6-8m×1.25-2m×5-20mm.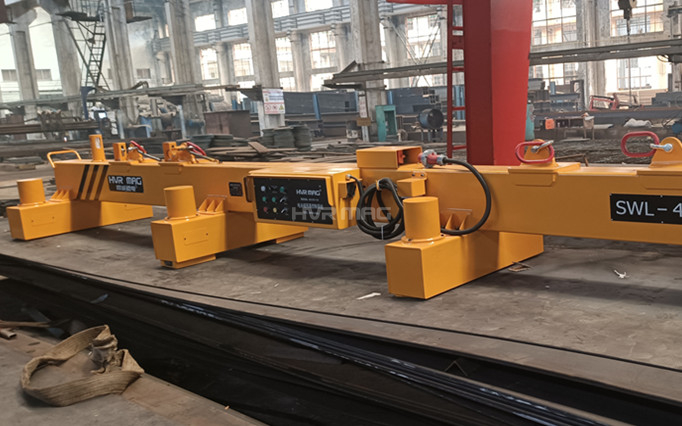 Why Did They Choose Steel Magnetic Lifting Device from HVR MAG?
•To Improve Steel Handling Efficiency - magnet lifting spares the need of manual separation of metal sheet.
•To Eliminate Safety Hazard - strong magnetic clamping force on plate ensures no dropping plate in a sudden power outage.
•
To Preserve Sheet Surface - uniform magnetic lifting force leaves
no scratches/marks on the surface of plate
.