In a steel mill or a steel manufacturing plant, steel plates or sheet steel are frequently moved by industrial lifting magnets from one place to another. Below, is an application of HVR MAG's 10 ton telescopic spreader beam lifting magnets, handling steel plates of various sizes in a steel plant.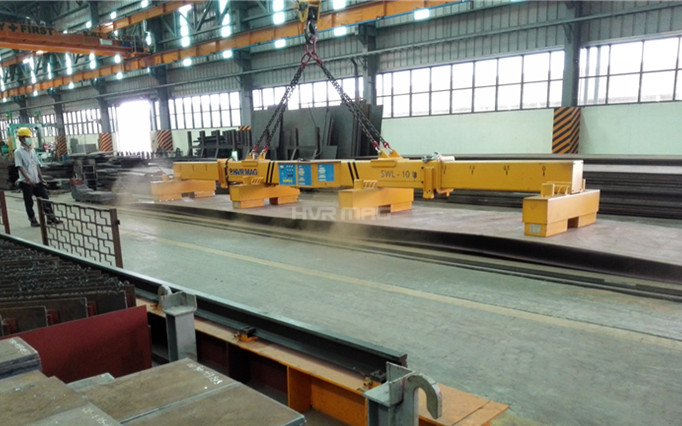 Safety Working Load(SWL): 10 ton - the maximum weight of the steel plate that this magnetic lifting system can handle.
Lifting operation: handling one thick steel plate for each lift; or picking up several short pieces of steel plate one time.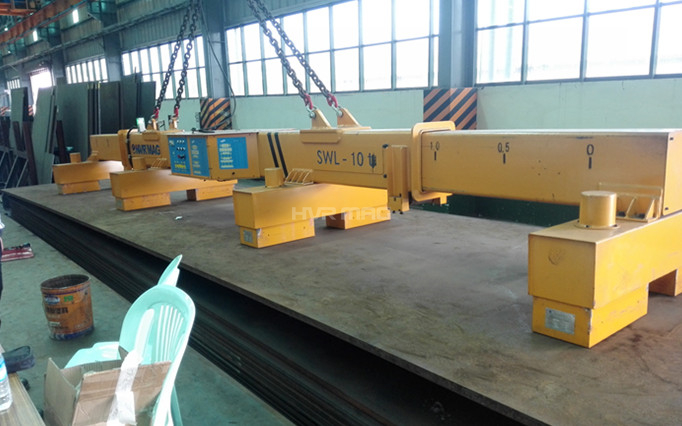 Features of This set of 10 ton Industrial Lifting Magnets:
●Telescopic Spreader Beam - the lifting beam can stretch or retract by itself via pushing a button on controller, to adapt to the varying lengths of the plates to be handled.
●Energy-Efficient - the electro-permanent magnetic modules consume no power during lift; electricity is only used in MAG & DEMAG phase.
●Superior Safety - the lifted plate will NOT FALL OFF even in a sudden power failure, as these industrial lifting magnets can still remain holding.
●Reduced Labor Intensity - with radio remote controller, only one worker is required to operate, sparing the trouble of manual separation of plates, compared with plate lifting clamps.
In addition to plates, HVR MAG can engineer and manufacture industrial lifting magnets for profiled steel, coils, billets, etc. upon client's request. Contact Us to get a magnetic solution for your steel material handling.