Have you ever tried a lifting magnet that can vertically lift steel sheets or plates? When storing steel plates, many enterprises are troubled by such a problem. That is, the existing site is not enough for the production capacity, and many small areas can not be utilized. So many structural steel manufacturers want to store steel plates vertically but have not been able to find a suitable lifting tool for the steel plates or sheets. Now I would like to introduce you to a dual-purpose lifting magnet that can help you solve the problem.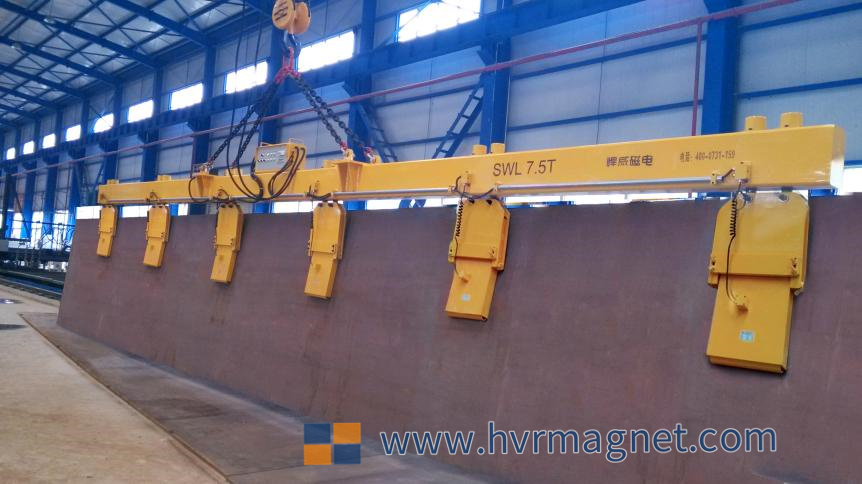 As shown in the picture, this lifting magnet was specially designed for the vertical storage and turning process, the maximum tilt angle is almost 90 degrees. The electro-permanent magnet comes with an optional mechanism, which relies on the weight of the steel plate itself to realize the turning and side lifting operation. It is also possible to achieve flat lifting operation by locking the limit device.
HM4 Series Vertical Plate Lifting Magnet by HVR MAG are ideal handling solutions for lifting steel plates/ sheets in a vertical or horizontal position, without compressing and/or deforming the steel plate/sheet. As it shows in the picture, it's lifting steel plates for cutting table.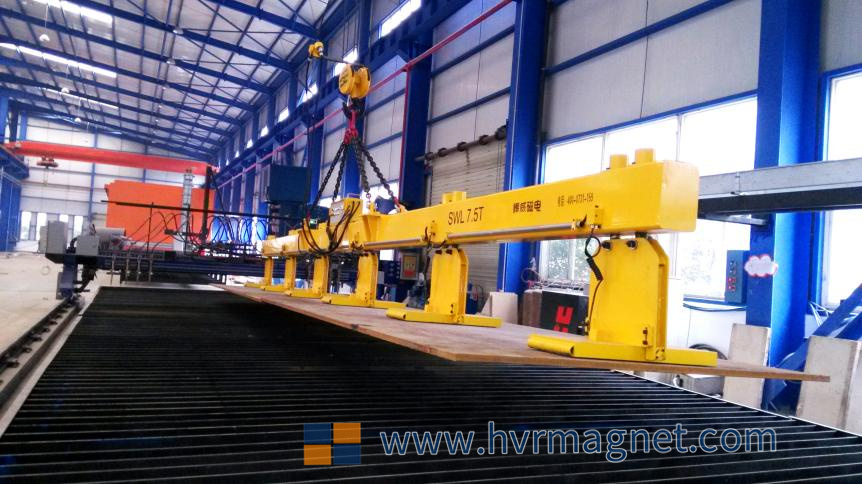 Advantages:
Compared with traditional ropes, clamps, hooks, and other conventional lifting tools, the advantages of this HM4 side lifting electro-permanent magnetic lifter are obvious. First of all, it has two functions, flat and side lifting, which can be converted quickly to your practical needs. Secondly, because of the characteristics of the electro-permanent magnet, there is no loss of magnetism due to power failure. Designed with a safety factor of 3 times the adsorption force, it allows you to carry workpieces without worrying about safety accidents and workpiece damage. It also saves labor costs.
Such a dual-purpose lifting magnet is your optimal choice to save storage space and improve lifting efficiency. If you are looking for a vertical lifting device for steel sheets and plates, you are welcome to e-mail HVR MAG at: export@hvrmagnet.com