Some friends would like to ask us a question "does the electro-permanent magnet have any disadvantages?" No equipment is flawless, we should admit, and electro-permanent magnets are no exception. Except for the not-so-low price (we offer reasonable price and high-quality), which I have mentioned why in another passage(
click
to read), today we are going to address the other big weakness of the electro-permanent magnet by sharing an application case of magnetic grippers for robot arm carrying round bars under the high temperature of 600℃.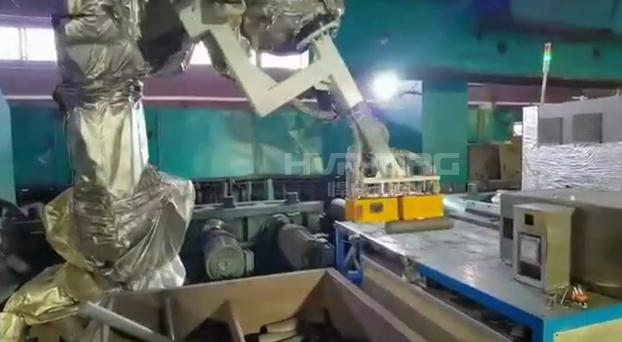 As shown in the picture, you can see that the intelligent robot is physically armed by wearing a layer of clothing. After all, the temperature of the working station is as high as 600℃, the physical protection is to ensure that the intelligent robotic equipment is not harmed or affected in the high-temperature environment. While the yellow part, the HVR electro-permanent magnet is exposed, how does it adapt to such a special environment?
On the one hand, it frees workers from the harsh working environment, reduces the labor intensity of workers, and improves the production efficiency of the workshop. On the other hand, the electro-permanent magnetic grippers for robot EOAT are compatible with various sized, shaped and weighted workpieces.