Magnetic chuck for CNC Workholding
Two domestic customers need CNC machine clamps, it's a pleasure for HVR MAG to serve them.
One customer from Hebei Province, manufactures turbine parts, solar energy equipment parts. They need magnetic chucks for vertical CNC machine workholding. The previous chuck that the customer used needed to be screwed and tightened manually. It was not only time-wasting and labor intensive, but also nonuniform on the clamping force.
Another customer from Hunan Province, involves in mold design and production. They used mechanical clamping previously that also involves too much bolts screwing. They wanted to improve the efficiency and found HVR MAG on the Internet.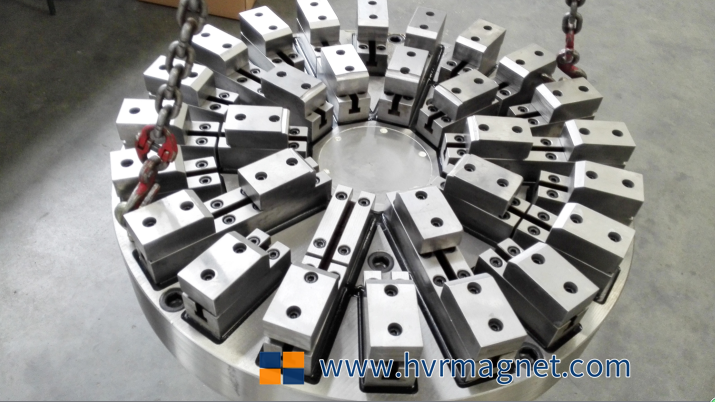 For Hebei customer, we designed a round electro-permanent magnetic chuck to replace the original chuck. The effective magnetic area is 1600mm in diameter and the adsorption force is 16kg/cm2. The workpiece is processed with higher precision compared to traditional clamps. The electro-permanent magnetic chuck can be connected to PLC control system and operated together with the machine.
The Hunan customer required differently as the thickness of the magnetic chuck needed to be 6~60 mm. And the diameter of the working table was 500 mm for circular workpiece. The chuck diameter 180~450 mm, and the rotation speed less than 100 n. This chuck needed technical selection since the workpieces thickness was as small as 6 mm. The electro-permanent magnetic chuck can be adjustable to various shaped and sized workpieces through adjusting the magnetic force.
Magnetic chuck advantages:
1、Compared with the traditional clamping platen, it saves the time to put screws on the platen. The "MAG" and "DEMAG" time is less than 2 seconds, which greatly improves the processing efficiency. The magnetic force is 16kg/cm2 with powerful force per unit area.
2、The workers only need to press the button to operate the magnetization and demagnetization, which reduces the labor intensity.
3、The clamping is surface-contact adsorption, which ensures uniform magnetic force and high processing accuracy.
4、No electricity is used when working. The adsorption force is permanently maintained, so there is no need to worry about safety accidents caused by power failure.
HVR MAG focuses on electro-permanent magnet since its establishment. CNC machine workholding clamps are also an important part of our magnetic products. You can connect us at: export@hvrmagnet.com