In steel structures, rusty steel plates often need to be pretreated by shot blasting machine for descaling. Then how to load and unload large heavy steel plates onto/off the shot blasting table, in a safer and more cost-efficient way? HVR MAG manufactured
10 Ton Industrial Lifting Magnets
will show you how.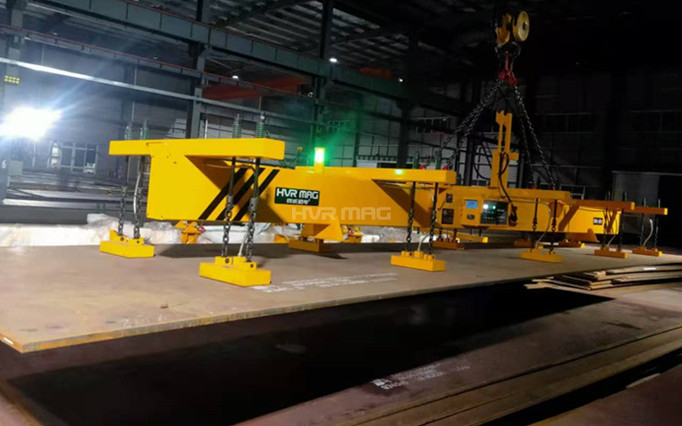 As you can see from the picture, our client, a steel structure in Henan Province, utilized our 10 ton industrial lifting magnets with overhead crane, to lift a single large heavy steel plate to the steel pretreating line. This type of below the hook lifting device, equipped with 5 sets of magnetic modules on the beam, is suitable for plates with varying sizes, as the magnetic modules can be selectively activated/deactivated for various size of plates. The indicator lamp is green, which means the magnets are successfully magnetized.
Specifications: For handling of: single plate; Plate material: Q235/Q345 ordinary carbon steel; Plate dimensions: length 6-12.5m; width 2-3.5m; thickness 10-25mm; Maximum weight of single plate: 8 ton; Rated lifting capacity: 10 ton; Lifting height: 10 meters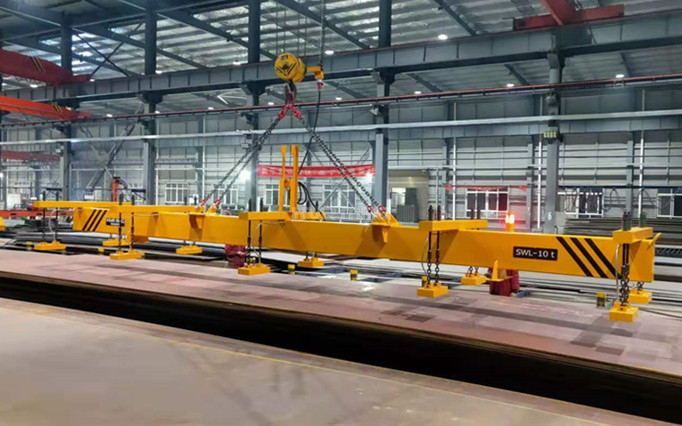 Due to the magnetic attributes(EPM) of this 10 ton industrial lifting magnets, the plate will not drop or fall off in a power outage; moreover, our client saved more energy by using this lifting device, as it consumes no power during the lift. Electricity is only used in MAG and DEMAG phases. Lifting steel plate with guaranteed safety and maximized cost-efficiency -
contact us
to get custom industrial lifting magnets that best suits your steel material handling application.