When Industrial Products Meet with the Internet
2. When Industrial Products Meet with the Internet
HVR MAG Becomes the Magnetic Equipments Supplier for Famous Enterprises at Home and Abroad
In addition to the strong research and development capability of R & D teams, another reason why HVR MAG becomes the magnetic equipments supplier for famous enterprises at home and abroad is that they were forced by customers to research and develop. Because HVR MAG is a new company, sales channels are few; for this reason, they made use of Internet to expand their market. "By 2010, Alibaba and Taobao are very popular among China, so we thought online sale is effective." They showed their products online after they built product frame and model.
Unexpectedly, a customer of Bangladesh happened to know the introduction of HVR MAG, he took the initiative to cooperate with HVR MAG. Thus the whole R&D team was forced to research and develop new products: battery electro permanent lifting magnet. This achievement won the national invention patent in 2012, and HVR MAG had thus become the first batch of invention patent gainer in the electro permanent magnet industry. By now, HVR MAG has already won 5 national invention patents and 29 utility model patents, and it is awarded as high tech enterprise by Hunan Provincial Science and Technology Department and is supported by the national science and technology SME fund for technological innovation and accessed to provincial and municipal technology support program.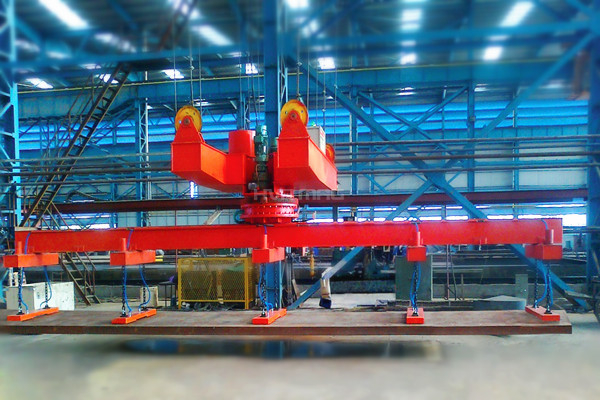 Mr. Davisn Ren introduced that in general, the electronic magnet is not magnetized. Only when the current is switched on, it is magnetized. It takes long for electronic magnet to charge and it is power-consuming; once it is power off, accidents may happen. Conversely, electronic permanent magnet only needs electricity in 0.1-1 second during the MAG and DEMAG phase, which saves 95% power. It does not need during working time, avoiding the risks of work pieces falling down caused by power off and cable broken.
The products of HVR MAG have the advantages of safe, energy conservation, high efficiency and environmental protection and are widely used in metallurgy, machinery, shipbuilding, electric power, automobile manufacturing, rail transportation, IT, medical and other industries. HVR MAG products have been sold to countries and regions like Europe, America, Singapore, Japan, Korea, Brazil and Russia, becoming one of the world's most reliable industrial magnetic equipment suppliers.
Nowadays, HVR MAG has been favored by domestic enterprises for its electric permanent magnet products through promoting in Internet. Famous enterprises at home and abroad like Sinopec, China National Petroleum Corporation, CRRC Corporation Limited, China National Erzhong Group Co., China First Heavy Industries, Sany Heavy Industry CO., LTD, Aviation Industry Corporation of China, ZPMC, Foxconn, BYD, Maersk, BOSCH and Yutong have all become customers of HVR MAG. READ MORE