How Do You Lift a Large Sheet Metal?
Lifting Magnet for Wide and Long Steel Sheets
There are many ways to handle steel plates, and there are many kinds of steel sheets. How to lift a large sheet metal? If we encounter a wide and long steel sheet, how do you handle it? Traditional lifting equipment, such as wire rope, hook, and clamp, will damage the steel sheet easily, causing scratches on the surface of the steel plate. The most critical is the traditional lifters will lead to deformation of the steel plate.
As a professional lifting magnet manufacturer, HVR MAG can customize for different working conditions of different steel plates.
1. Magnet for thin sheet metal lifting
For a relatively large sheet metal, which is thin, the number of magnet adsorption points will be increased. This is why deformation of the sheet metal can be avoided. Many people are more concerned about whether the magnet will adsorb the metal sheet or steel plate below. HVR MAG uses a material with shallow magnetic permeability depth. During the operation, we shall carry out pre-magnetization to lift the sheet metal, and then full magnetization to lift and transfer the sheet. In this way, we can prevent adhesion to the steel plate below.
2. Telescopic beam magnet for steel sheet
For steel plates of different widths or spliced with other materials, we can add rails on the beam and slide the rails according to the steel plate situation, to realize the handling of multiple specifications of steel plates. In response to this situation, our lifting magnets have automatic grouping function, which can be adjusted according to the actual situation of the steel plate. Thus, one lifting magnet can handle specification-varied steel sheets.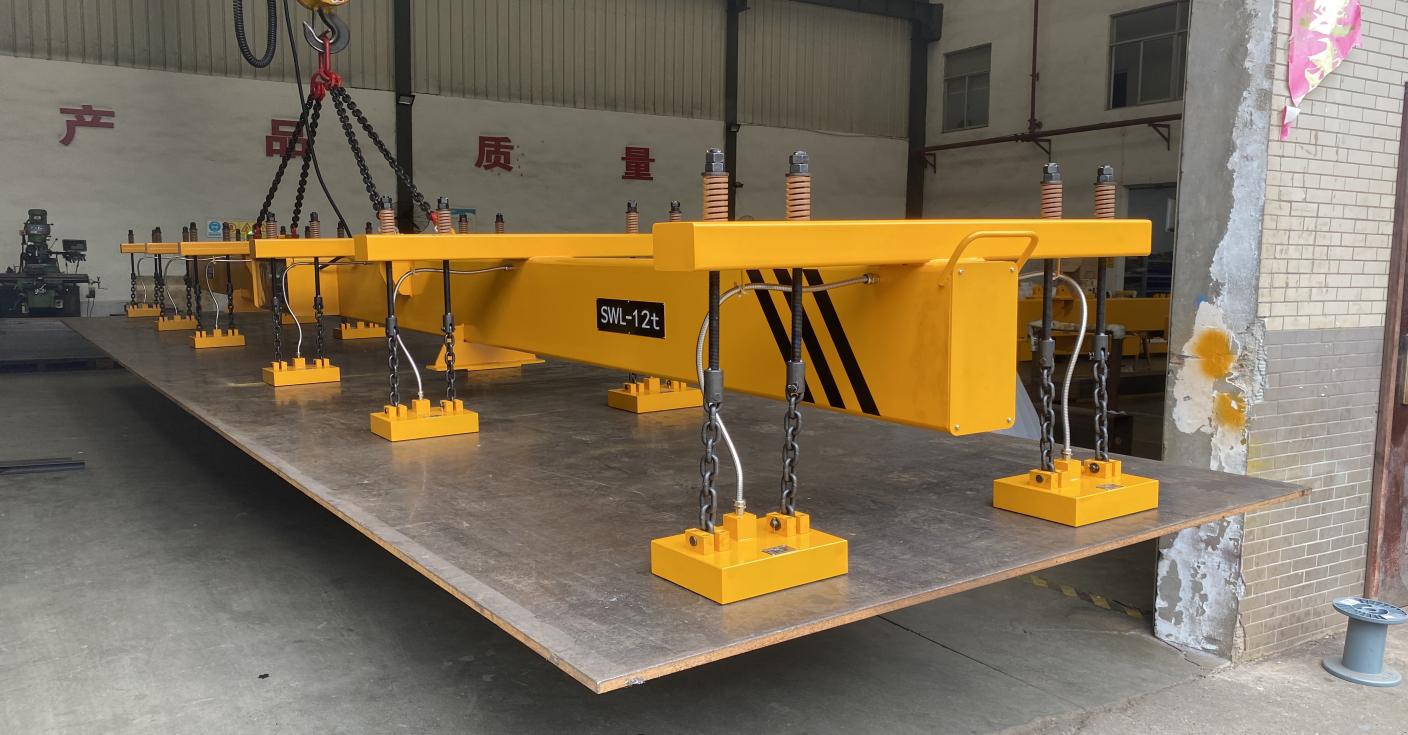 In addition to customization, there are four advantages of an electro-permanent magnetic lifter:
1, no loss of magnetism in a power failure, excellent safety;
2, strong magnetic force, can be any combination, excellent suction;
3, no internal moving parts, no maintenance costs, excellent performance.
4, cost-effective, with one investment to ensure the subsequent 10-year magnetic decay rate of less than 5%, and very reliable quality.
The electro-permanent magnetic lifter can help save the factory's labor and improve the efficiency of safe production. Besides, it takes only 3 seconds to magnetize and demagnetize, so it is safe and reliable.
Now, are you looking for a suitable lifting device to handle your steel sheets? Are you still confused about how to lift large sheet metals? Contact HVR MAG at: export@hvrmagnet.com