55 tons Lifting Magnet Successfully Shipped
Rare 55 tons
Lifting Magnet
S
uccessfully
S
hipped
We are delighted that our 55 tonne lifting magnet has been successfully tested and is on its way to our customer. This customer supplies steel piles for offshore wind turbine foundations. In their quest for more reliable product quality, they need to bend and weld an entire sheet of steel to form a monopile - the size and thickness of these plates are so impressive that a bespoke lifting tool in this rare 55 tonne class was required, as plate delivery is an essential step in their production. Completing the production of the 55 tonne lifting magnet is both a challenge and an opportunity for us.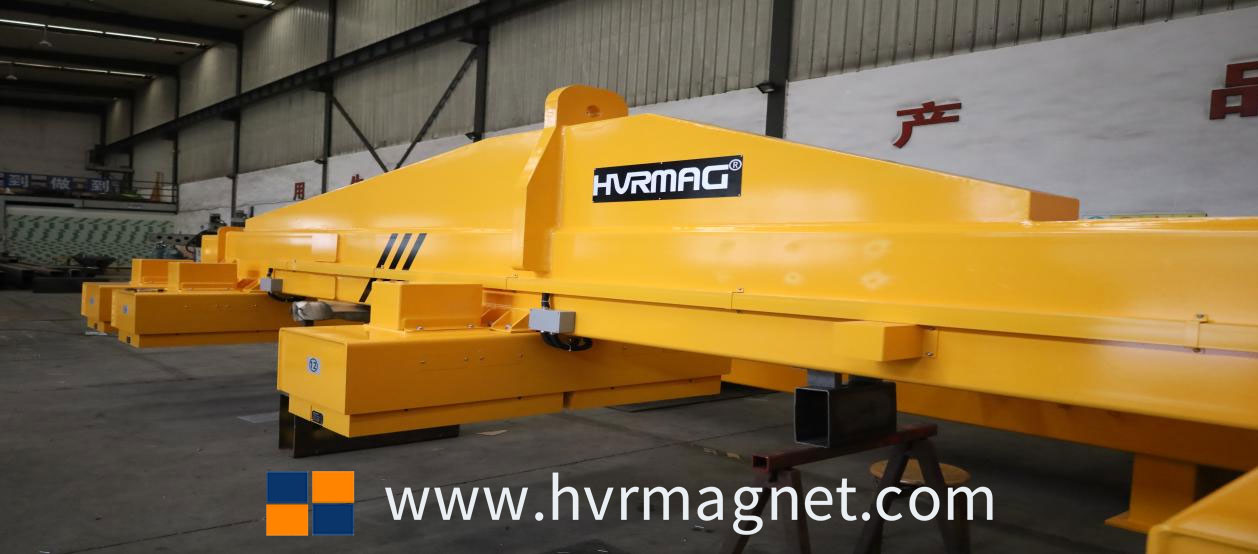 Challenge 1: Load-bearing capacity of a telescopic beam
This heavy duty lifting magnet with retractable beam can hold steel plates of various sizes. When the telescopic beam is fully open, the length increases by four meters and the one-sided adjustment range is two meters. Retracting the beam when it's not in use doesn't take up too much space. It needs to lift the steel plate thickness range between 45 and 120 mm, if a 120mm thick steel plate is to be lifted with the beam open, the beam itself must be strong enough not to deform. Therefore, the two sides of the beam are arched airfoil design, which is to ensure the safety of the telescopic beam under the ultimate load state.


Challenge 2: How to lift up steel plate precisely
For such a heavy-duty magnetic lifter, ease of operation is essential. In particular, it has to deal with a complex working situation: steel plates of different sizes and thicknesses, which require different magnetic surfaces and magnetic forces in order to accommodate them. This lifting magnet consists of 8 electromagnetic modules, one pair as a group, divided into four groups ABCD. The magnetic strength is also divided into four levels. The grouping and magnetic level can be selected from the control panel to ensure precise control when handling different steel plates. Of course, remote control is also available.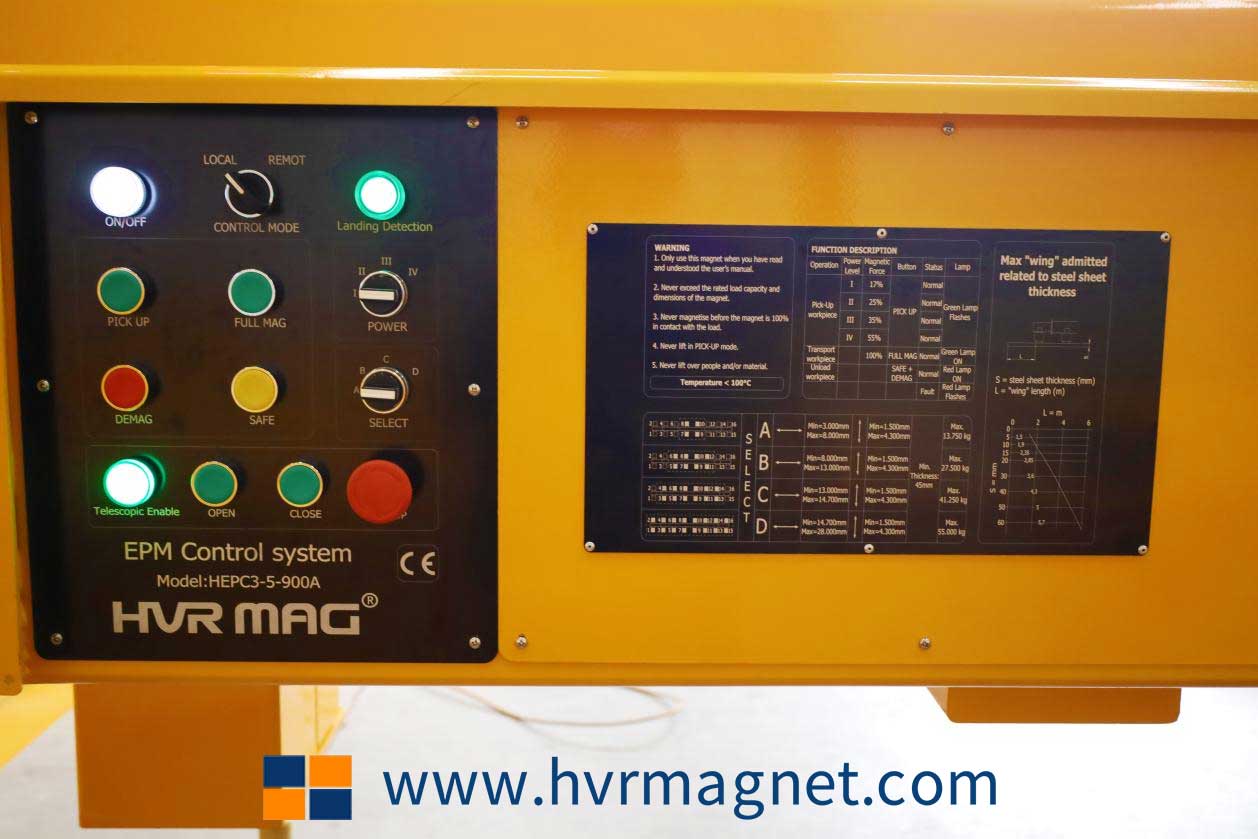 Challenge 3: Is it safe during the lifting process?
Safety is always our first priority, which is why this large lifting magnet has a safety factor of 4. When the steel plate is suspended, it locks automatically and cannot be demagnetized. It is also equipped with a landing detection device. Only when the complete landing is detected, the demagnetization operation can be carried out. Therefore it can avoid accident falling of steel plate due to the wrong operation. Even if there is a sudden power failure, the lifting process will not be affected, which is one of the advantages of electro-permanent magnet. The working principle of electro-permanent magnet is to instantly energize the internal magnetic poles into magnetic state. This magnetic state is permanent, so there is no power consumption during the steel plate handling process. Only when the current is applied again will the magnetic field change direction and return to a non-magnetic state.
We hope that this lifting magnet can make steel plate handling more efficient, safer and smarter for our customers. It is the mission and honour of our company to help more enterprises solve the problem of steel handling. If you have any need, please feel free to contact us.