Decoiling is the process of unwinding a bigger coil, making it flat and cutting it into sheets. Then how to move these cut sheets safely and efficiently avoiding any possibility of the sheet surface being damaged? Check HVR MAG's
magnetic lifting system
.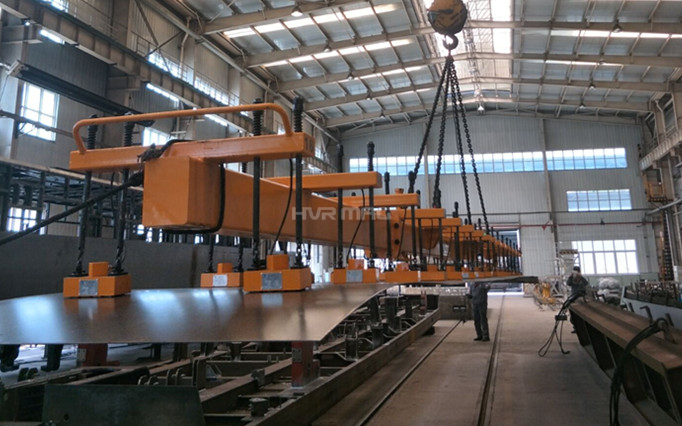 This magnetic lifting system combines 32pcs of HEPMP-150B electro permanent magnet lifters to move 9-16mX1.25mX2-3mm steel sheets.
It was designed for precision handling of only one single sheet without picking up the second one.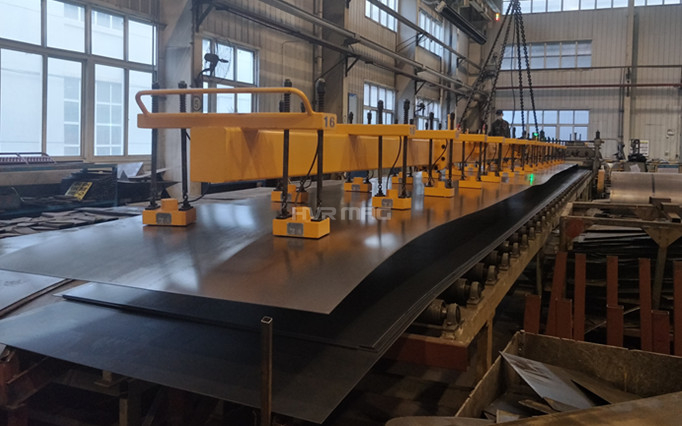 What makes our
magnetic lifting system
DISTINCTIVE
from
vacuum lifting cups
,
conventional lifting tools
, and
electric lifting magnets
?
✦
Reduced defective rate of sheet:
uniformly distributed strong magnetic force, for scratch-free and tight holding of sheet.
(beats clamps/hooks/strap

s
)
✦
Flexible lifting solution:
selective control of magnet modules, for handling steel sheets of different lengths
(beats vacuum cups)
✦
Reduce safety hazards:
no dropping load even in a sudden power outage, due to property of electro permanent magnets.
(beats lifting electromagnets)
✦No moving parts inside, barely no maintenance; easy to operate.