Introduce a new type of steel plate lifting device for high definition plasma cutting, lifting magnet system manufactured by HVR MAG, replacing conventional plate lifting clamps or hooks. This magnetic lifting system is responsible for loading steel plate onto the cutting table and unloading the cut parts off after the cutting procedure.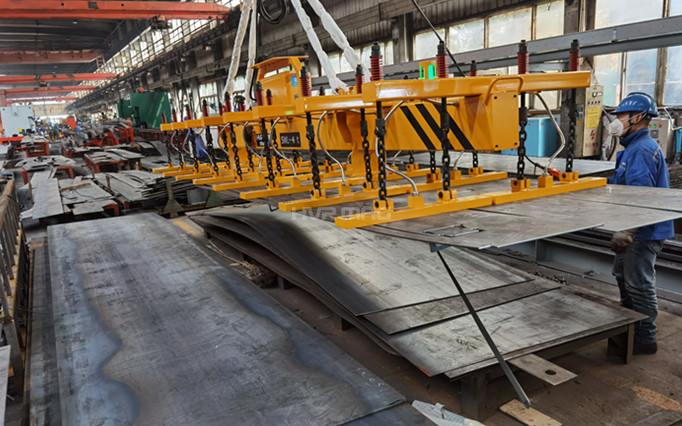 Steel plate lifting device design: 16pcs HEPMP-7608P45X12L rectangular permanent electromagnetic lifters symmetrically suspended on each side of the lifting beam, with radio remote controller. Safety Working Load(SWL): 4 ton.
Plate specification: Q235 and Q345 steel plate with dimensions range of 6m×1.5m×2-14mm; Minimum size of cut part: 800mm×800mm; Maximum weight of plate: within 1 ton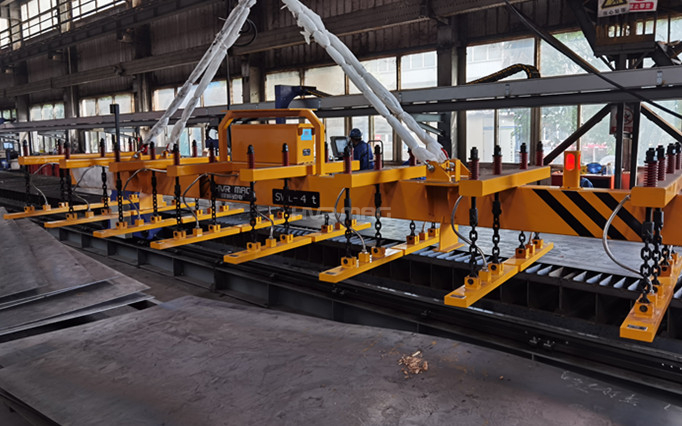 PREVIOUSLY
used steel plate lifting device - plate clamps and lifting hooks
●Occasionally slipping plate
●2-3 workers were occupied to cooperate the handling process
●Prone to leaving scratches to the surface of plate
Advantages
of
NEWLY
procured steel plate lifting device from HVR MAG
●Safety - no dropping of suspended plate during lift even in a sudden power outage
●Improved steel material handling efficiency
●Reduced labor intensity - radio remote control only requires one operator
●Avoid damages to plate - uniform magnetic clamping force, no scratches or dents to the surface
There are many different types of lifting device for lifting steel plate in the market. Magnet lifting is a more safe and efficient way to achieve that, especially for steel mills or steel structures that need to deal with steel materials quite often.
Contact us
to learn more about
lift magnet solution
.