We know that butt welding is used to connect different pieces of metal together such as metal blanks, framework. Then if we can speed up the handling process of metal pieces, the overall welding efficiency can be improved. And to achieve that, you don't wanna miss this new type of EOAT -
magnetic grippers
, equipped at the end of robotic arm which is responsible for the loading and unloading of steel workpieces in butt welding.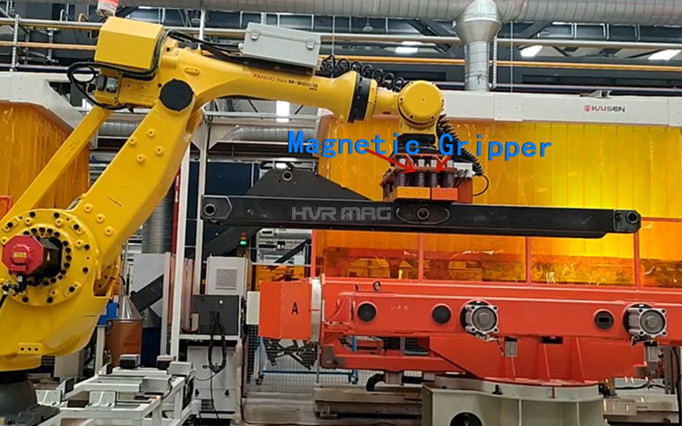 Shown in pictures, is an intelligent manufacturing workshop of fire safety equipment, where industrial robots are employed for welding and material handling.
HVR MAG's magnetic gripping solution for pick & place robots in automated welding line, consists of two parts, listed separately in the following parts.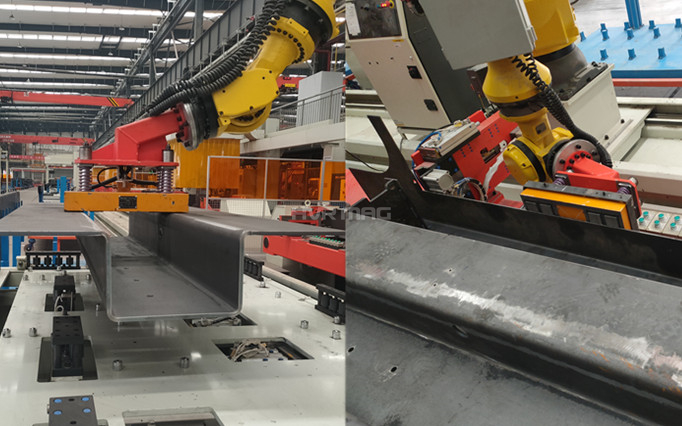 Part I
Gripper design: 2 electro permanent magnets
Magnet model: HEPMP-2715P45X12-GW, heat-resistant
Load specification: square-tube steel framework
Load thickness: 6-8mm
Load weight: Maximum 80kg
Part II
Gripper design: 1 rectangular epm
Magnet model: HEPMP-5018P50S
Load specification: 6-12mm thick steel plate; structural steel part
Load weight: Maximum 180kg
The main duty of these magnetic grippers is to
pick up
steel workpieces of different shapes,
hold
and
position
them for next welding procedure, then
unload
them after welding.

Benefits gained by the factory:
▶Increased efficiency
Unlike human workers who require breaks and time off, robot grippers can operate on a 24-hour shift. Longer working hours and quicker speeds allow robotic welding machines to complete their projects much faster than manpower could. Thanks to the faster completion times, the output from robotic welders far surpasses anything possible from a human.
▶
Enhanced Safety
Due to the permanent electromagnetic properties, these magnetic grippers can remain holding of the metal piece even in a sudden power outage. That is to say, these heavy metal pieces will NOT FALL OFF to cause any possible damages to equipment or injuries to engineers.
▶
Energy Saving
Another competitive edge of this robot grippers is that they do not consume power during working; electricity is only need for magnetization and demagnetization phase.
▶Better Accuracy
The ideal project for a robot involves repetitive motions applied to a large volume of parts. When engaged in this type of work, even the most experienced worker will eventually make errors. Magnetic grippers on robots will finish the project with a higher degree of accuracy because the machine will keep working with the same level of attentiveness until the project is complete.
Magnetic grippers for pick and place, though account for only a small portion of the entire butt welding projects in the factory, undeniably they're irreplaceable.
Contact us
to customize one for your own robotic welding project!