In metal industry, steel plates sometimes become uneven or are slightly bent if the trapping stress are not at an equilibrium across all directions of the plate. In that case, leveling would be the next procedure.
Magnetic palletizer
, for palletizing and depalletizing of industrial steel material in automatic transfer lines, are frequently applied in the steel plate leveling system.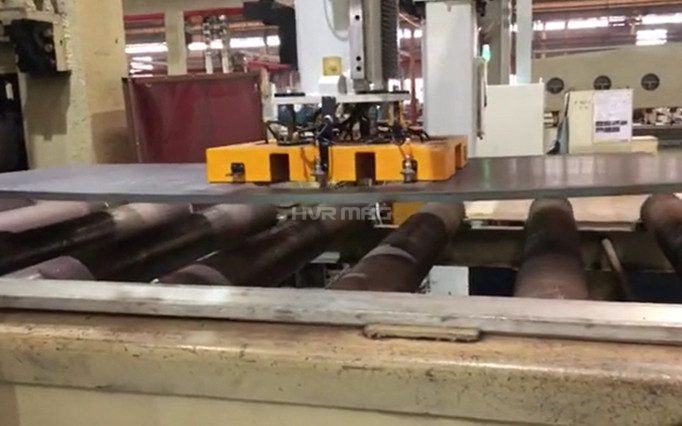 Here in the picture, is a new application of HVR MAG magnetic palletizer integrated on gantry system in automated steel plate leveling system. It utilizes 6 magnetic heads, forming a uniform and strong clamping force on the steel plate, for consecutive loading and unloading without deformation or dents to the surface of the plates.
Magnetic palletizer dimension: 610*480*85mm; Rated magnetic force: 2000kg; Weight: About 120kg; Operating voltage: DC 160V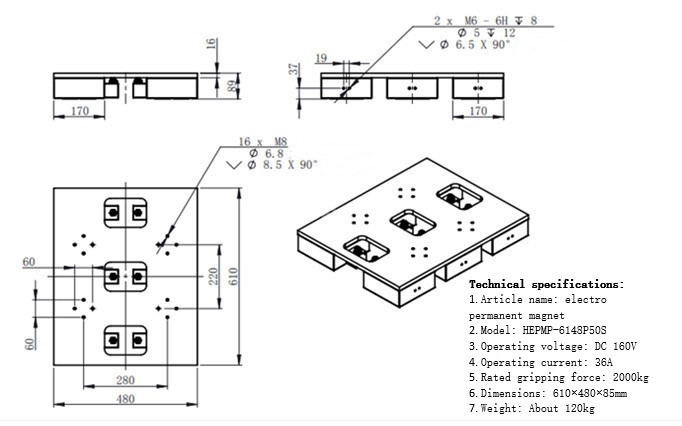 Due to the electro-permanent magnet equipped inside, the lifted plate won't drop or fall off if a power failure occurs. Electricity is only needed in magnetization and demagnetization phase of the magnets inside. The whole palletizing and depalletizing cycle is shortened because of the fast and safe handling operation.
Featured with safety & efficiency, increased production output in the automated handling of products in various industries, magnetic palletizer has gained a great popularity and been widely used in pick and place equipment, general engineering, or as magnetic grippers in robotics, packaging machinery, palletizing & depalletizing systems for manufacturing and assembly lines in automation.