How does the world's top 500 equipment manufacturing enterprise realize production and capacity improvement under the premise of achieving "carbon neutrality"? --Find how HVR robotic arm magnetic grippers help Zoomlion achieve energy efficiency.
Background:
Climate change is a global issue on the road of human development. With the emission of carbon dioxide from various countries, greenhouse gases are increasing rapidly and threatening the life system. Against this backdrop, countries around the world have adopted a global agreement to reduce greenhouse gas emissions, and China has thus proposed carbon neutrality and peak carbon dioxide emissions targets.
China's manufacturing industry is a major contributor to carbon emissions, and the first step to achieving "carbon neutrality" in heavy industry is to reduce carbon emissions. And reducing electricity consumption in manufacturing (electricity saving) is actually reducing carbon emissions, as well as achieving "carbon neutrality" for industrial enterprises.
In this regard, the world's top 500 companies, including Zoomlion Heavy Industry Science & Technology Co., Ltd., are actively responding to the national policy call, sparing no effort to achieve "carbon neutrality" in the production and operation process to help China achieve peak carbon dioxide emissions by 2030.
How does HVR Magnet get involved in realizing production and capacity improvement?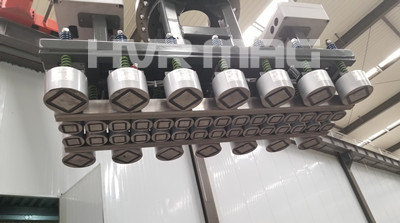 HVR supplied the robotic arm magnetic grippers for the automated equipment production line in Zoomlion Heavy Industry Science & Technology Co., Ltd. The project for Zoomlion is mainly for sorting, handling, and fixing flat steel, H-beam, angle steel, square pipe, round pipe, and other profile steel materials in the automatic production workshop. High-quality magnetic grippers can help our customers maximize production meanwhile decreasing the energy consumption.
Our electro permanent magnetic grippers have features as follows: 1. Lightweight to maximize end-of-arm capacity and reduce energy consumption. 2. Electro permanent magnet technology provides the most secure transport method and is almost maintenance-free. 3. Electricity is only needed in the "MAG" and "DEMAG" phases, saving up to 95% more electricity than electromagnet. 4. Special magnetic pole is available for undertaking any kind of steel load.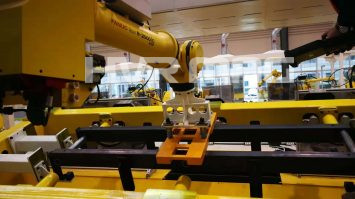 HVR prides itself to help
enterprises
like Zoomlion
to increase production and capacity under the premise of carbon neutrality.
If you are interested in how to achieve energy efficiency by applying robotic arm magnetic grippers, please contact us to get a free query right now!