MAGBAT EUROPE, the exclusive general agent of HVR MAG products in Europe, recently purchased one set of magnetic lifting systems for profiles handling on cutting line system(as shown in the picture). A highly positive feedback was received from them after being used by the client at their end.
Some may ask how do we distinguish ourselves for other common electromagnetic lifting equipment in the market? What are the differences between them? For technical and specific answers, please refer to our previous article in this regard.
HVR MAG advanced electro permanent magnets, combined with fixed or telescopic spreader beam, constitute a unique magnetic lifting system with supreme safety, ensuring efficient transport of industrial steel materials from one place to another in the manufacturing area.
Besides, it requires no backup battery power to maintain the magnetic force in the event of a power failure. Because of that, it has greatly helped over the years to reduce the material handling time and improving manufacturing efficiency in industrial production.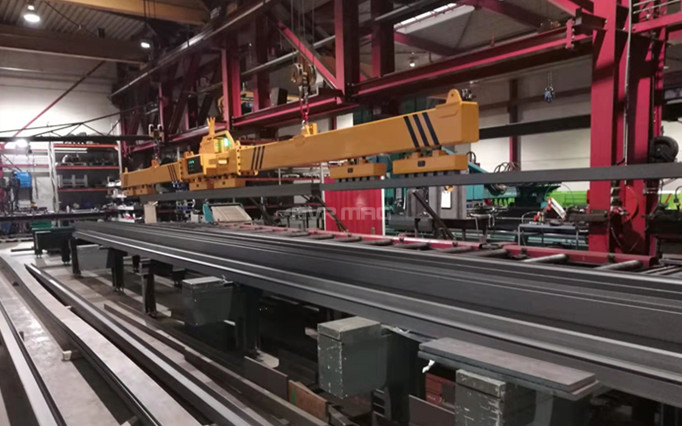 Industrial steel materials can be of various shapes and sizes, including profiles, beam blanks, plates, billets,slabs, blocks, coils, etc. The above picture is a typical application of magnetic lifting system in profiles handling, with 6 magnetic lifters.
Contact us
to get a customized magnetic handling solution if you are in need of one.