The Permanent Electromagnetic Lifting 3-22mm Steel Plate
Laser cutting steel plate is a important process in manufacturing workshop, using our permanent electromagnetic lifter can improve your efficiency when loading and unloading steel plate, reduce working time and without damage to steel plate.

With the handling way of steel products from traditional manual handling change to permanent electromagnetic lifting system handling, the application of permanent electromagnetic direct shorten the time of handling and achieve rapid, safe, energy-saving handling process, permanent electromagnetic lifting system of HVR MAG in this area also has a lot of use case, the following is the use case for our customer, using permanent electromagnetic unloading laser cutting steel plate.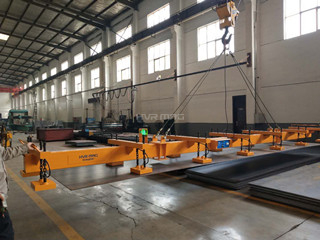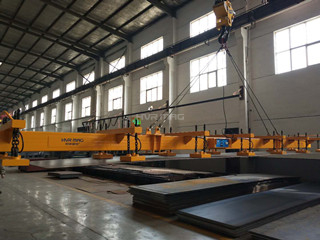 In general, the size, shape, weight of the plate is changed after processing, the permanent electromagnetic lifting system of HVR MAG can lifting long steel plate before processing, after processing, we can determine which magnets need to clamping according to the length of steel plate, the others can be used by the control system to adjust the magnetic stop using them, thus can adapt to different specifications of steel plate, with strong flexibility.