What If You Have to Lift Heavy Round Steel Work Pieces...
How will you handle the problem of handling heavy round steel work pieces? Will you do in traditional way which requires 2 workers to carry the work piece? Of course NO, because it is inefficient and few workers are willing to do it. But what will you do? HVR Magnetics Co,. Ltd has solved this handling problem easily. HVR MAG has designed a battery electro permanent magnetic lifter, which is of small size, equipped with rechargeable battery. What are the advantages of this lifting magnet?
First of all, there is no limitation to power supply, so it can be moved to everywhere.
Secondly, after getting full charged, it can lift 600pcs work pieces.
Thirdly, only one operator is required to finish the whole lifting process, including loading and unloading.
In addition, it is power-saving because magnetizing and demagnetizing time is less than 0.6 seconds and it needs no power supply during working time.
Last but not least, it is much safer to operators and equipments because the magnetic force still exists even if power off or cable broken.
What's more, HVR can also customize lifting magnets or chucks according to the real work condition. Therefore, a safer and more economical way of lifting can be realized no matter how heavy the work pieces are.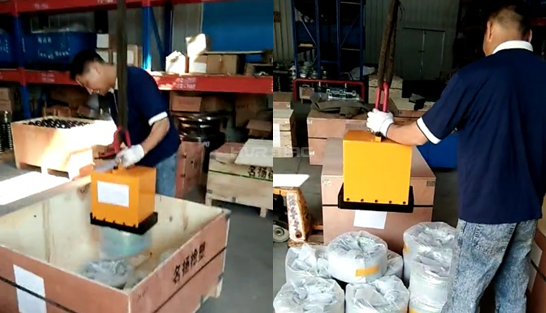 Click here to see more details of products of HVR MAG and feel free to contact us, we will give you the customised solution and our best service in a short time.