Chinese Spring Festival Holiday Is Coming
As the time enter into February, 2018, the Chinese Spring Festival is coming( from Feb 15.2018 until 21.Feb,2018). Our HVR MAGNETICS CO.,LTD will start holiday from 14.FEB,2018 until 23.Feb ,2018 to celebrate this traditional holiday.
Before the holiday, in order to summarize the last year 2017 and look into the 2018, we had a meeting in hotel.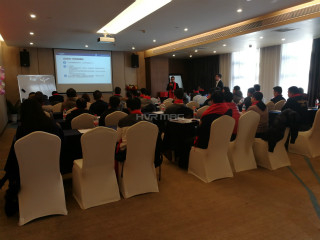 2017. HVR MAGNETICS CO.,LTD focus on electro permanent magnet technology, we get large market share in domestic and overseas, such as the electro permanent lifting magnet, magnetic quick mold change system, electro permanent magnetic chuck ,automation electro permanent magnet,all of them are very popular among our customers such as USA, EUROPE, ASIA and etc.
Thanks for all our customer's support in 2017, looking forward to the continue support in 2018.
See you on 24.Feb,2018.
HVR MAGNETICS CO.,LTD