Below is a new application of our permanent electromagnetic chucks in a newly set CNC gantry machining center.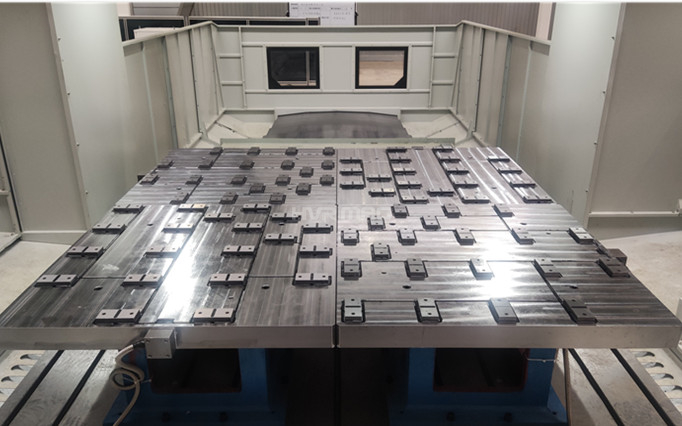 As we can see from the picture, there are 4pcs of magnetic clamping plates combined together for CNC machining.
Magnetic clamping force switched on & off via the controller equipped, the workpiece can be clamped/released within 2 seconds. Simple button pressing can speed up manufacturer's setup time of chucking device for machining.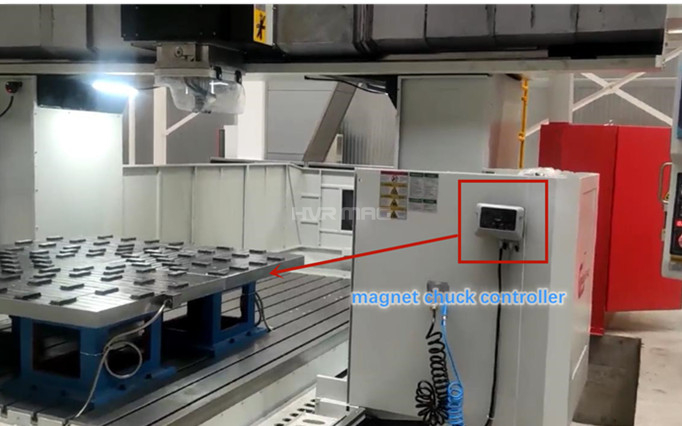 Advantages of customized permanent electromagnetic chuck:
●Efficient workholding since workpieces can be attached/detached by electrical switching operation.
●Strong holding force - the maximum magnetic force that magnetic chuck can generate is 16kg/cm2.
●Energy-saving, since electric power is used momentarily for attaching/detaching workpieces only.
●High accuracy because of no thermal distortion due to heat generated during power on.
●No change in the holding power in the event of power failure while the workpiece is being held.
●Durable: The decay of magnetic force will not exceed 5% within ten years
●Reduced maintenance cost: no moving parts inside, no maintenance cost
How to Customize Permanent Electromagnetic Chuck for Your Machining Operation?
There are some specifications and dimensions needed before engineering a proper magnetic workholding solution for your machining:
Cutting speed, milling cutter diameter, feed rate, depth of cut, milling length, milling width, workpiece material, number of tool teeth, and other data to measure cutting force. Cutting force, high temperature, workpiece material, and processing time, each of them can affect the magnetic force of chuck.
Magnetic Forces of Electro-permanent Magnetic, Permanent, Electromagnetic Chuck
When the air gap is small, the magnetic force of electro permanent magnet is the highest among all. If the air gap is large, the magnetic circuit of permanent magnet will directly burn out, resulting in the loss of magnetic force.
Can Electro-permanent Magnet Attract Aluminum Alloy? What Materials Can It Absorb?
Electro-permanent magnet cannot attract aluminum alloy. Generally speaking, as long as the materials are "ferromagnetic substances", they can be attracted by magnets, such as: carbon steel, tungsten steel, aluminum-nickel-cobalt alloy, NdFeB alloy, soft iron, Silicon steel, nickel-iron alloy.
If interested, or wanna learn more about our permanent electromagnetic chucks and their features, please contact our product specialist for more info or support.