Guardrails are common barriers set on highway to provide safety for drivers who turn off the road. Normally we're under the impression that they're made of steel, irregularly shaped and difficult to handle. To solve that, steel fabricators have been using magnetic palletizer to handle and stack structural steels like guardrails to maximize their productivity.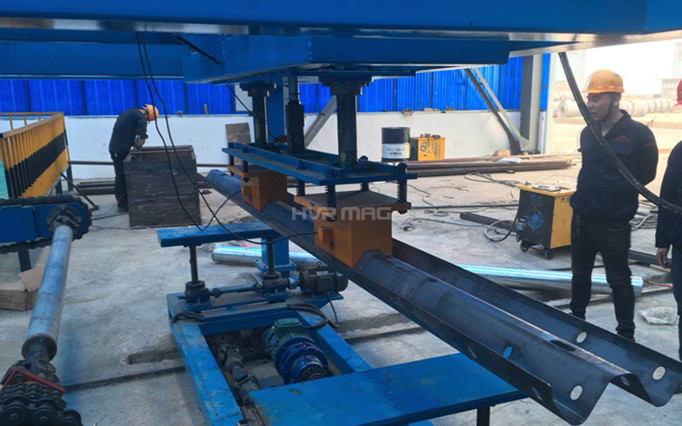 A steel manufacturer in Tianjin, approached HVR MAG team to design a new model of magnets that can pick up and hold their steel guardrail products, in combination with an automatic stacking machine. Our engineers customed this u-shape magnetic palletizing heads, which utilizes magnetic clamping force to pick up guardrail parts from an infeed conveyor, transfer and stack them in order.
Magnet technical parameters: Model: HEPMP-4030-FB Working voltage: DC 160V Working current: 10A Instantaneous power: 1600W Weight: About 150kg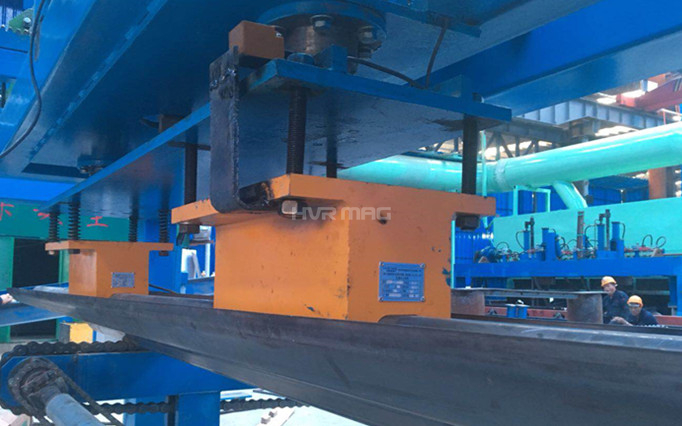 Palletization magnets can also be produced in many sizes depending on the weight, measurements and specifications of the steel parts to be transported. They provides automatic means for sorting, transferring and stacking cases of steel products, usually at the end of a manufacturing line. Although they can only lift one item at a time, yet they are much faster than manual stacking and are not prone to fatigue or injury.
Moreover, magnetic palletizer is also suitable for attachment to a robot arm or gantry crane, working as a magnetic gripper or end-or-arm tool in robotic palletizing. Learn more about our magnetic palletizer, please visit our product page.