Magnetic Grippers for End of Arm Tooling
The rapid development of robotics in China in recent years is evident to all. And magnetic gripper, as a kind of robotic end of arm tooling (EOAT), has played an irreplaceable role in various industries.
According to China Robotics Industry Alliance (or CRIA)'s statistics released in the early 2022, China's industrial robot market sales grew against the trend in 2020, with annual sales ranking first in the world for the eighth consecutive year and sales hitting a record high. Take the application that related to the magnetic grippers of end effector for example: in handling, loading and unloading, the primary application area, up 18.6% year-on-year. Welding and brazing robots, up 4.7% year-on-year. Assembly and disassembly robot sales, an increase of 58.8% year-on-year.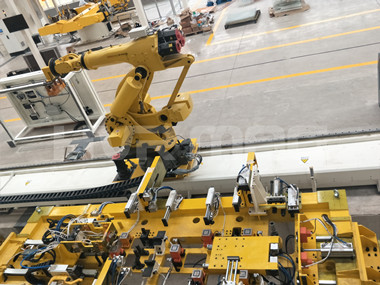 Currently, the magnetic grippers for end of arm tooling (EOAT ) are widely applied to the following industries:

1.Automotive Industry
In China, 50% of industrial robots are used in automotive manufacturing, of which more than 50% are welding robots. For example, Industrial robots have been introduced in a automobile manufacturer, and the fully automated stamping machines have been built, with robotic arm end tool magnetic loading and feeding steel plates into the presses, stabilizing product quality while replacing manual labor and avoiding workplace accidents.

2.Metallurgical and Foundry Industry
As the main scope of work for industrial robot, this includes processes such as ferrous metal drilling, milling or cutting as well as bending and stamping. It can also shorten work cycles and increase productivity in welding, mounting, loading and unloading processes.

3.White Home Appliance Industry
For example, mass production of washing machine drums - production, processing, handling, measuring and inspection can be done more economically and efficiently using robots. It can perform production tasks continuously and reliably without the need for frequent transit of heavy components. This ensures a smooth flow of material through the production line - and constant high quality at all times.
Mobile robots (AGV )
Mobile robot, as the core technology and equipment of international logistics technology development, can achieve point-to-point automatic access to the combination of elevated box storage, operations and handling, to achieve refinement, flexibility, information technology, shorten the logistics process, reduce material loss, reduce floor space, reduce construction investment and other high-tech and equipment.
Spot welding robots
It has the characteristics of stable performance, large working space, fast movement and strong load capacity.
Arc welding robots
They are mainly used in the production of welding of various automotive parts.
Laser processing robots
It can be used for laser surface treatment of workpieces' punching, welding and mold repair, etc.
For handling ferromagnetic workpieces.
Compact, heavy-duty steel housing for high durability.
Electro-permanent magnet, energy efficient: maintains magnetic gripping in the event of a power failure.
Magnetic adsorption type, no damage to workpiece surface.
Reduced maintenance cost.
Company Outlook of HVR MAG
As a source manufacturer with 15 years of experience in the electro-permanent magnet industry, HVR MAG produces magnetic grippers for the end of robotic arms. As an EOAT (end of arm tool ), magnetic gripper has been heating up in recent years with the domestic robotics market. Some domestic and foreign robot integrators have become our customers. We have designed and manufactured special specifications of magnetic grippers according to customer needs.
However, we also know that although China's robotics density continues to grow rapidly, its market share and competitiveness still needs to be improved due to the shortcomings and deficiencies of the Chinese robotics industry in terms of quality. This path still requires more effort and sweat to reach prosperity in the brutal international market. HVR MAG is striving and becoming your reliable partner in the robotics end of arm tooling (EOAT) of magnetic grippers.