HVR MAG Electro Permanent Lifting Magnet on Railway Project
As HVR MAG is well known in international market with the good quality, product guarantee and after-sales service, a large railway project customer ordered one set of electro permanent lifting magnet system with rated lifting capacity exceed 20000kgs from us. The single unit of this Electro Permanent Magnet Lifting capacity is up to 8000kgs, and the maximum pull-off strength exceeds 28000kgs for each set of electro permanent magnet unit.
Following are the basic information for HVR MAG electro permanent lifting magnet in this case whose model is HEPMP-13476S for outdoor use:
Long strip design;
International grade painted and colored surface;
Lifting point distance can reach up to 5000mm;
4 pieces electro permanent magnet joint lifting, equipped with telescopic beam which can be adjusted to 9100mm.
Please attention, the penetration depth of electro permanent magnet is adjustable, which means that you can select for lifting one single steel plate or even 5 pieces steel sheets each time as your working condition requirement.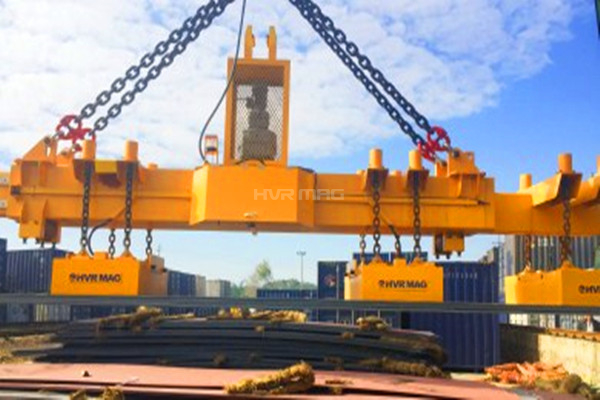 One of the most important features of HVR MAG electro permanent lifting magnet is that it can work in power failure condition. The magnetic force is up to 16kg/cm², and electricity consumption saving higher than 95%. It is easy to handle with less maintenance.
HVR MAG electro permanent lifting magnet system, a perfect selection for railway projects.