Thin Plate Lifting by Using Electro Permanent Lifting Magnets
You may know that the thinner the plate, the weaker the holding force of the lifting magnet. The reason is that a thin plate, as a part of the magnetic circuit together with the electro permanent lifting magnet, is easily saturated resulting that the total flux from the lifting magnet becomes fewer and even worse a portion of the magnetic flux go through the air bypass. The consequence is a weak lifting capacity for the thin plate.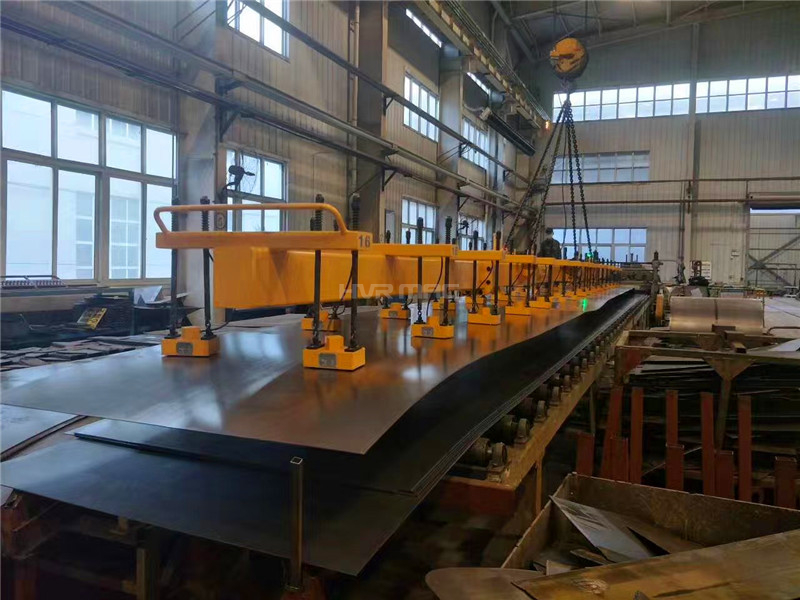 HVR MAG specially designed this kind of electro permanent lifting magnet for thin steel plates. Even though the plate needs to be lifted is only 2-millimeter-thickness, enough magnetic force can still be generated. Special structure can guarantee each process only lifts one piece of plate and easily overcomes large deflection problems.
Besides a thin plate can only accept a small amount of magnetic flux, there would be bending of the thin plate due to overhang Stretched out from the poles of lifting magnet. The weight of unsupported overhang portion of the plate could peel th e large plate off the poles of the lifting magnet. In such situation, you have to consider two or more lifting magnets with a spreader beam to handle a large, thin plate.
HVR Magnetics always discuss with new customers about the loads to be lifted before shipping lifting magnets to help select right modes.
Apart from electro permanent lifting magnets for handling thin plate the other series of HVR MAG also can lifting such as coil, billet, pipe etc.