Conventional lifting devices are loosing their edge for plate handling, and gradually being replaced by a more efficient and convenient way of material handling equipment - plate handling magnets.
In an automobile manufacturing factory of Dongfeng Motor Corporation, Shenzhen, sheet metals piled in stack, need to be picked/lifted up and transported onto and unload it off cutting machine table, where cutting process will be performed.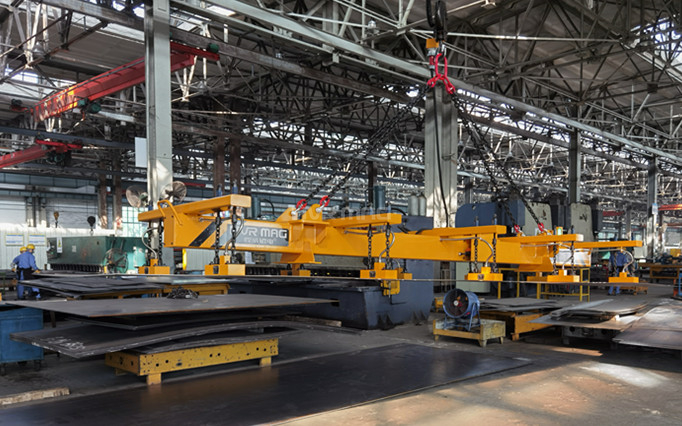 HM3 Series Plate Handling Magnets System Characteristics: Lifting capacity: 2 ton; Quantity of magnet modules: 10; Status lamp for real-time indication of the working status of magnet system; With radio remote control; For single plate handling
Steel Plate Specifications: Thickness: 2-10mm; Width: 1.5-2m; Length: 6m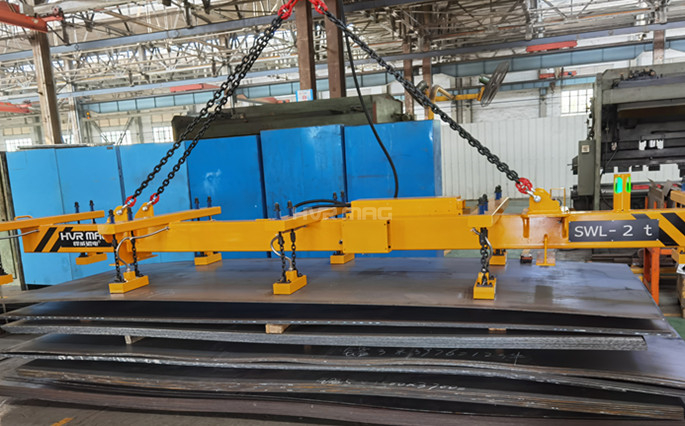 Why did they need to replace plate lifting clamps?
Safety Hazard - plate clamps does not meet relevant regulations of safety production. This factory was once been required by local government department for rectification.
Sheet Damages - Scratches on the surface of sheet metal after handling, affect the next production process
Why choose HVR MAG over other lifting magnet manufacturer?
Superior Safety with unique magnetic clamping technology - electro permanent magnetic force will not be diminished and can remain holding of plate even in a sudden power failure.
Lifting capacity and spreader beam structure are custom-built to best fit client's steel handling requirements.
Selective control of magnet modules make this magnetic lifting system more versatile - suitable for sheet metals in different lengths.
Welcome to visit
our website
to learn more about this quick & safe & efficient plate handling magnet system.