In the ever-evolving automotive industry, efficiency and precision in manufacturing processes play a crucial role. One such innovation that has significantly impacted the production of car frames is the use of electro permanent magnet technology in welding. This article explores the advantages and applications of electro permanent magnets, highlighting their ability to enhance the welding process by minimizing deformation, increasing productivity, improving weld quality, and reducing labor costs.
Overcoming Deformation and Clamping Injuries
In traditional welding processes, mechanical fixtures can often lead to deformation and clamping injuries on the workpieces. However, it offer a superior alternative. By utilizing powerful magnetic forces, these fixtures securely hold the steel plates in place, avoiding surface damages and minimizing the risk of workpiece deformation. This aspect ensures a stable and reliable welding process, eliminating the need for extensive rework or repairs.
Enhanced Production Efficiency
One of the key advantages of electro permanent magnet fixtures is their ability to significantly improve production efficiency. Compared to traditional fixtures, these magnetic fixtures offer a quicker and more convenient setup, allowing for swift and accurate positioning of the workpieces. The time saved in the setup and alignment translates into faster welding processes, ultimately increasing overall production capacity. It has been observed that the use of electro permanent magnet fixtures can improve production output by over three times, offering a substantial boost to the manufacturing workflow.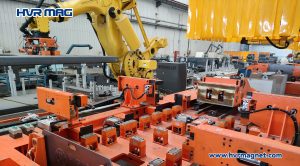 Improved Weld Quality and Reduced Defect Rates
The application of electro permanent magnet fixtures in car frame welding ensures a smoother welding process, resulting in improved weld quality. By providing uninterrupted access to the welding gun, these fixtures do not impede the flow of the welding operation. The steady and reliable fixation offered by the magnetic forces minimizes disturbances, leading to welds with improved consistency, strength, and aesthetics. Consequently, the overall defect rate is reduced, ensuring higher-quality finished car frames.
Reduced Labor Costs
Apart from enhancing weld quality and productivity, these also contribute to cost savings in the welding process. Traditional welding operations often require multiple operators to handle mechanical fixtures. However, with the introduction of electro permanent magnet technology, these fixtures can be operated with ease, primarily in a single-key operation. This allows for unmanned operation, reducing the need for manual intervention and subsequent labor costs. The automated nature of electro permanent magnet fixtures not only reduces expenses but also eliminates the risk of human error, further enhancing the efficiency of the production line.
Conclusion
The adoption of electro permanent magnet technology in car frame welding has revolutionized the manufacturing process. By harnessing the advantages offered by these fixtures, such as overcoming deformation and clamping injuries, improving production efficiency, enhancing weld quality, and reducing labor costs, automotive manufacturers can achieve higher productivity, superior weld quality, and cost savings. As the automotive industry continues to evolve, the utilization of electro permanent magnet technology in welding processes will undoubtedly play a significant role in meeting the demand for efficient and high-quality automobile production.
For more information, please contact HVR MAG at export@hvrmagnet.com