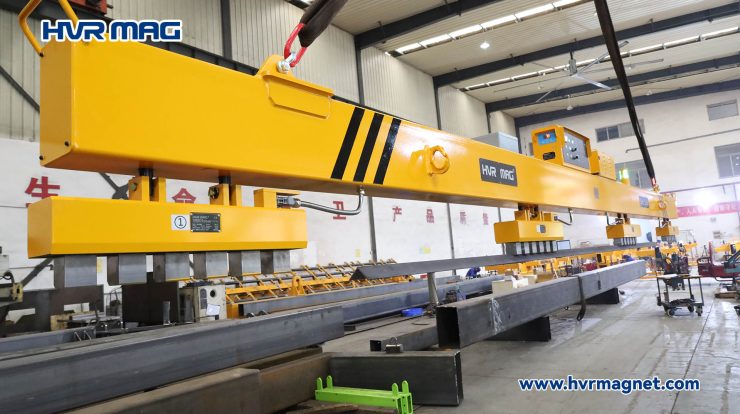 Steel sections are designed to provide structural support and stability in construction and engineering projects. Is there an efficient lifting method to handle steel sections in steel structure work? In this article we are going to discuss steel sections and a lifting device for it: electro permanent lifting magnet.
What are steel sections?
Steel sections are shapes that are typically produced by rolling or extruding steel billets or ingots into specific shapes, such as beams, channels and angles.
What are they used for?
They are highly versatile and are used in a wide range of applications across various industries. They are commonly used in the construction industry for building frames, roofing, and structural supports. They are also used in the manufacturing of wind towers, automation, trains, ships, and other machines. The strength, durability, and cost-effectiveness of steel make it a popular choice for manufacturers in various sectors.
Difficulty in lifting steel sections
Steel sections can be quite heavy and bulky. Their irregular shapes can make them challenging to lift, move, and transport.
Why electro permanent lifting magnet is recommended?
HS series electro permanent lifting magnet is specifically designed for handling steel sections such as h beam and angle beams. The magnetic beam equips with magnet modules with slim pole for lifting steel sections from 80 to 24000 mm in lengths. The magnetic force can be adjusted to compatible with different sizes of sections.
You can also customize functions including module rotation, independent control of each module, battery-powered version, etc.
Safety insurance of electro permanent lifting magnet
The magnetic beam is installed an inductive proximity switch mounted on the lifting mechanism, preventing accidental demagnetization in the air.
Radio remote control allows the operator keeping distance with the magnet, reducing risks or injuries.
With digital illuminated push buttons, this lifting magnet is easy and clear to operate. Additionally, dual control buttons realize misoperation prevention.
Advice from lifting expert
It's important to note that the successful integration and application of electro permanent lifting magnets depend on factors such as specific lifting needs, working conditions, and industry requirements. Proper training, adherence to safety guidelines, and careful selection of the appropriate magnet are crucial for achieving optimal results. Consult a professional supplier while choosing your own magnet is advisable.
HVR MAG offers detailed buying suggestions, customized design proposal and comprehensive after-sales service and maintenance education. For more information, please contact us at export@hvrmagnet.com