Magnets are widely used in our life, whether in transportation or electrical appliances. As lifting equipment, electro permanent magnetic lifter is the combination of electromagnet and rare earth permanent magnets. It can handle the loading material with hundreds of times its own weight, featuring small size, strong lifting capacity, and high security. It is suitable for handling steel plates, iron, and other profiles, such as mechanical parts, punching molds, and various steel materials.
Electro permanent magnetic lifter is a kind of lifting equipment that needs electricity only to magnetize and demagnetize. Many people confuse it with an electromagnetic lifter. In fact, an electromagnetic lifter uses internal coils energized to generate magnetic force. It needs electrical power not only to magnetize and demagnetize the lifter but also to keep holding the load. That's why it is not energy-efficient and sometimes even dangerous in case of sudden power failure.
The most important thing in the production process is safety. Electro permanent magnetic lifter is different from other lifting equipment. It is to lift products by magnetic adsorption and will not leave magnetism on the products after lifting them. To ensure safety after unintentional overload, the pull-off force is 2 to 4 times the rated lifting weight. According to different specifications, you can customize your magnets with suitable magnetic force, which ranges from hundreds of kilograms to hundreds of tons determined by your specific needs.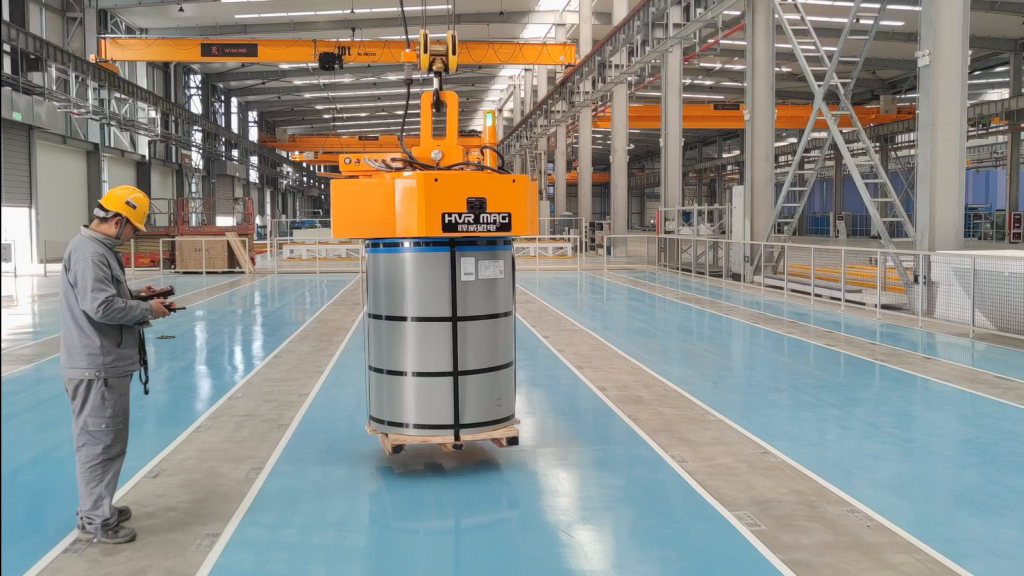 Electro permanent magnetic lifter has now become not only a new direction in the development of lifting technology but also a new field of application of rare earth permanent magnetic materials. For some applications where electricity is inconvenient, such as ships, ports and harbors, warehouses, etc., HVR has developed battery-powered electro-permanent magnetic lifter. This kind of lifting magnet requires no external power supply, and one charge can be used 800-2000 times. It is energy-saving and environmentally friendly, with high safety performance.
With the industrial production of energy saving and environmental protection, efficiency and safety requirements of lifting equipment continue to rise, the traditional lifters such as electromagnet, and electromagnetic suction cups will be gradually eliminated, and the electro permanent magnetic lifter will usher in faster development.
HVR has specialized in electro-permanent magnet technology since its establishment. And lifting equipment: electro permanent magnetic lifter (lifting magnet) is the most basic product that has been widely used in structural steel factories, fabricators, heavy machinery factories, wharves, warehouses, shipyards, etc.